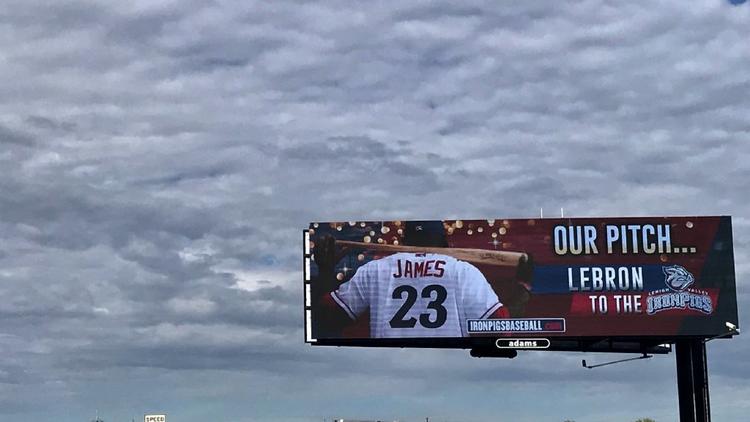 #LVWantsLeBron brings IronPigs two Golden Bobbleheads By Tom Housenick
The Lehigh Valley IronPigs won a pair of Golden Bobblehead awards during last week's MiLB Promotional Seminar in Des Moines, Iowa.
The Pigs were awarded the inaugural "Best Digital Campaign or Activation" award, as well as the "Best Overall Promotion" honor for this summer's #LVWantsLeBron pitch.
The IronPigs have won five Golden Bobbleheads, more than any other team in Minor League Baseball since the awards' 2011 inception.
"We've done a number of unique and interesting promotions but none have gained as much attention from fans and other teams as #LVWantsLeBron," IronPigs President and General Manager Kurt Landes said. "After we saw the incredible reaction to our initial posts, we knew we were on to something and pulled out all the stops to try and land LeBron."
In early May, the IronPigs put up a billboard on American Parkway that read "Our Pitch … LeBron to the IronPigs." The billboard went viral when the Pigs posted it to their social media channels.
A number of news organizations as well as several Minor League Baseball teams either shared or engaged with the original posts. The IronPigs generated more than 1.6 million organic impressions on LeBron-themed digital content.
Lehigh Valley continued to share a variety of #LVWantsLeBron-related items through #LVWantsLeBron Night on June 28, which featured a visit from a goat, LeBron-style chalk toss and a free Sprite for anyone who wore a LeBron James jersey to the game.
"It's always an honor to see that your peers admire your team's efforts," said Lindsey Knupp, the Pigs' Vice President of Marketing and Entertainment. "We've long considered our yearly promotional calendars to be the best in all of Minor League Baseball, and events like this help to highlight what we're doing for the fans here at Coca-Cola Park."
The Pigs won their first Golden Bobblehead in 2011, a Best Non-Gameday Promotion for their role in hosting the Lehigh Valley Health Network's 15th annual black tie gala, Go Hog Wild at Nite Lites.
In 2013, the team was honored again for Best In-Game Promotion for its revolutionary "Urinal Gaming System" that debuted that season. Lehigh Valley took home the 2016 Golden Bobblehead for "Best Theme Night" after the club changed its name to Lehigh Valley Cheesesteaks for Salute to Philadelphia Night.
The IronPigs' 12th season begins April 4, 2019.
Individual tickets will be available on Saturday, March 2, 2019, as Lehigh Valley hosts its annual "Pig Day" Celebration.