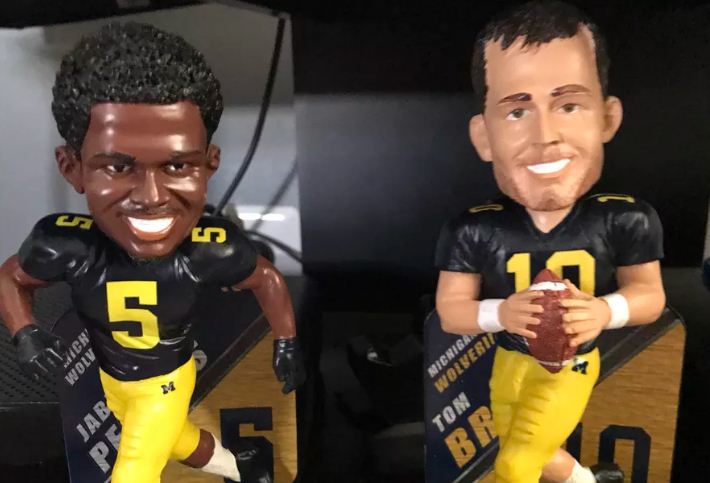 Lost in the madness that was the weekend of Michigan vs. Michigan State football's renewed rivalry was the unveiling of some really cool bobbleheads released exclusively by the National Bobblehead Hall of Fame and Museum.
The bobbleheads, manufactured by FOCO, feature Michigan stars Jabrill Peppers and Tom Brady in their collegiate uniforms. It is the first college bobblehead for Peppers, now with the Cleveland Browns, and the first in many years for Tom Brady, who's previous iterations had sold out.
Here's a snippet of the release:
"The officially licensed and individually numbered bobbleheads are $40 each with a flat rate shipping charge of $8 per order. The bobbleheads were produced for the National Bobblehead HOF and Museum by FOCO and are in stock now.
Tom Brady is considered by most to be the greatest quarterback of all time, and he continues to put up staggering numbers for the New England Patriots since being drafted in the 6th round with the 199th overall pick of the 2000 NFL Draft. The 5-time Super Bowl Champion, 4-time Super Bowl MVP and 3-time NFL MVP played for Michigan from 1995 to 1999 and posted a 20-5 record for the Wolverines in the two seasons that he started. Despite limited playing time during his first two seasons, Brady still ranks among the top five in several statistical categories.
Before being drafted with the 25th overall pick in the 2017 NFL Draft by the Cleveland Browns, Jabrill Peppers received numerous awards for his performance at Michigan, which included 125 tackles in 27 games. Peppers has made an immediate impact with the Cleveland Browns, racking up 80 tackles in 19 games."