First Vegas Golden Knights Player Bobblehead Featuring Marc-Andre Fleury Unveiled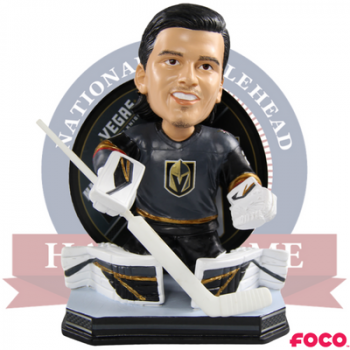 First Vegas Golden Knights player bobblehead featuring Marc-Andre Fleury is now available exclusively from the National Bobblehead HOF and Museum.
MILWAUKEE, Wi., February 22, 2018 – This morning, the National Bobblehead Hall of Fame and Museum unveiled a limited-edition bobblehead featuring Vegas Golden Knights goaltender, Marc-Andre Fleury. This is the first bobblehead ever produced of a Vegas Golden Knights player in the team's uniform. On Wednesday, June 21, 2017, the Vegas Golden Knights selected Marc-Andre Fleury from the Pittsburgh Penguins in the 2017 NHL Expansion Draft.
The limited edition bobbleheads, which are individually numbered, just arrived and ship now. The bobbleheads are $40 each with a flat rate shipping charge of $8 per order.
The Vegas Golden Knights entered the All-Star break with the best record in the Western Conference, thanks in large part to Fleury's goaltending. Fleury (12-4-2) is on pace to set career bests in goals-against average and save percentage despite being on injured reserve for 25 games due to a concussion that he suffered in the October 13th game against the Red Wings. Fleury's performance earned him a spot in the 2017 NHL All-Star Game, which is his third All-Star Game appearance and first since 2015. Fleury ranked second in the NHL in goals against (1.77) and save percentage (.942) entering the All-Star break.
Fleury was selected by the Pittsburgh Penguins as the first overall selection in the 2003 NHL Draft. He left Pittsburgh as a three-time Stanley Cup champion and the winningest goaltender in club history. Only Mario Lemieux played more seasons with the Penguins (17) than Fleury's 13. Fleury suffered a concussion late 2015-16 regular season and was replaced by rookie Matt Murray, who took over as starting goaltender going forward.
"We're excited to be able to offer Vegas Golden Knights fans the team's first player bobblehead," said Phil Sklar, Co-Founder and CEO of the National Bobblehead Hall of Fame and Museum. "Marc-Andre Fleury was an easy choice given his history in the NHL, but his performance so far this year has made him a fan favorite in Las Vegas."
Several additional Vegas Golden Knights bobbleheads were also added to the 2018 NHL bobblehead series and made available for pre-order at a cost of $30 each. Those bobbleheads are scheduled to arrive beginning in May and feature Chance, Deryk Engelland, Erik Haula, James Neal, Jonathan Marchessault, Marc-Andre Fleury (gray jersey and white jersey), Nate Schmidt, Reilly Smith and William Karlsson. The addition of this many bobbleheads to the series is unprecedented and is a testament to the excitement surrounding the Golden Knights.
The bobbleheads were produced by FOCO and are officially licensed.
About the National Bobblehead Hall of Fame and Museum:
The National Bobblehead Hall of Fame and Museum was announced in November 2014. The HOF and Museum hosted a Preview Exhibit in 2016, and is currently planning for a permanent location, which is expected to open in April 2018. The HOF and Museum also produces high quality, customized bobbleheads for organizations, individuals and teams across the country. Visit us at www.BobbleheadHall.com, www.facebook.com/BobbleheadHall or www.twitter.com/BobbleheadHall.