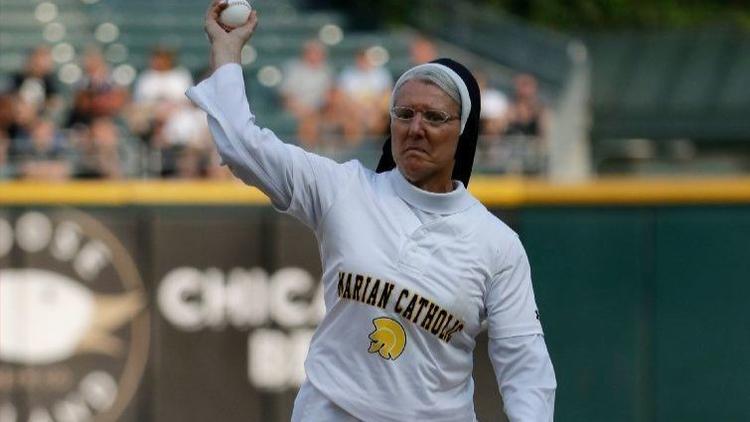 Speak Out: Sister Mary Jo Sobieck, Rauner, real estate agents and more By Daily Southtown
Dongratulations to Marian Catholic High School in Chicago Heights for making such an impression at Guaranteed Rate Field in Chicago. I love how Sister Mary Jo Sobieck wore a Marian Catholic shirt over her habit in honor of the school's 60th year and fired a perfect strike when throwing out the first pitch before the Chicago White Sox game. Who would have thought that the National Bobblehead Hall of Fame would create a Sobieck model? It does sound like Sobieck's mom, Louise, was her angel in the outfield on Marian Catholic night. When a mother and her sixth-grade daughter named Louise stopped Sobieck to get a photo, that must've been heartwarming for all involved.
In reply to the commenter who said that if Democrat J.B. Pritzker gets in the governor's office that you better watch your pockets because the taxes are going to go up, I'd like to ask: How much did your taxes go down with Gov. Bruce Rauner for four years? Don't pick on Pritzker until we see what happens. Obviously, Rauner didn't do a good job. Why would we want him for another four years?
Lori
I wish some real estate agents would treat the homes they are trying to sell like their own houses. Those of us who are no longer in the houses that we are selling often cannot check the properties daily so we rely on a real estate agent to make sure that things are secure after showing a home to potential buyers. I was surprised that I had to remind my real estate agent several times to make sure that doors were double-locked, blinds were closed and lights were turned off after showings. Yes, my agent was one of several who were showing the home but there still should be certain checks that real estate agents do before leaving a property.
I'm a Chicago Cubs fan. In response to the comment by Shelly that it's ridiculous that television stations treat the baseball team like they're some great champions, it is a "run," not a "point," that they won by. There, I made my point.