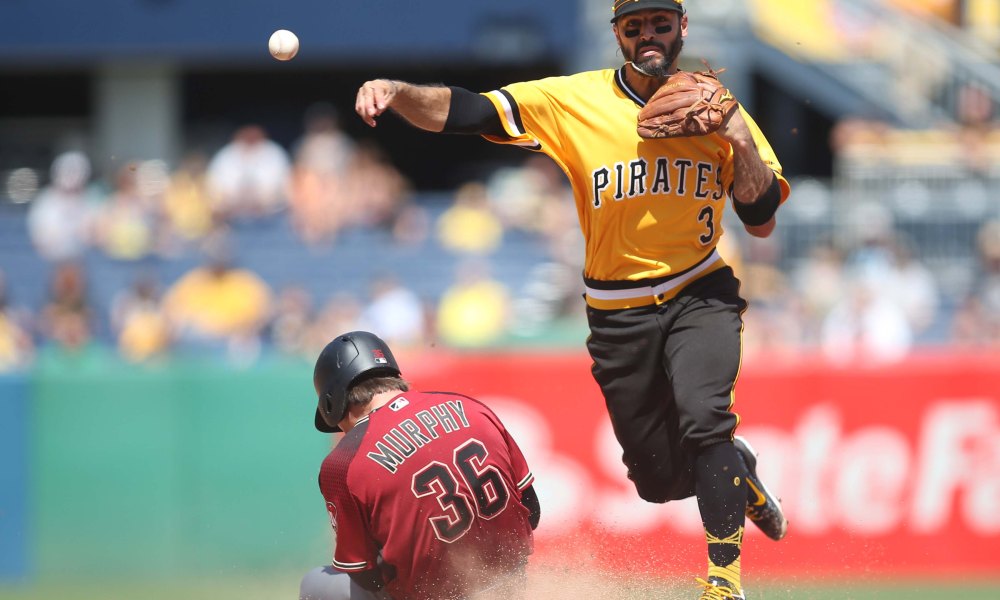 There was a four-run lead blown in the ninth inning, a 2-0 loss where the runs came from Starling Marte slipping and missing a routine fly ball in centerfield in the first inning and now most recently getting humiliated in multiple ways on Sean Rodriguez bobblehead day.
Before I go any further I want to make it clear that I, like many others who have been in the Pirates clubhouse, have had nothing but positive experiences with Sean. From everything that I have been able to gather, he seems to be an excellent husband and father with very strong faith. With the exception of beating a Gatorade cooler senseless, I cannot think of a single time where S-Rod has been anything but a class act.
However, while he might be one of the nicest guys on the roster, that is just about all he has going for him. You don't need to be a scholar of the game to know that a major league ball player who is batting .145 on the season with only seven base hits against right-handed pitching is underperforming on drastic levels.
When you add in all the mistakes he has made in the field this season, it certainly makes one wonder why he still a member of this team.
The Pirates entered Saturday having lost their last three games. This alone should have been enough motivation for Clint Hurdle to put out the best possible lineup in hopes of salvaging the series in which they were trailing 2-0. Instead, Hurdle once again decided to place the worst player on the Bucs roster in the starting lineup in hopes that he could get his bat going.
On a day the team chose to honor him for a special moment that he had last season, Rodriguez certainly had many moments that fans in attendance will not forget on Saturday.
Unfortunately for him, they were not good memories. Rodriguez started the game off with a throwing error in the first inning that sent one lucky fan on the first base line home with a major league baseball in addition to their bobblehead.
He then followed up his bad day in the field by going 0-4 at the plate including two strikeouts, one being the final out of the game.
Perhaps the most memorable moment of all though was when a small group in the half empty PNC Park began a sarcastic "M-V-P" chant he stepped to the plate for his final at bat.
Though it was funny to some, to me Saturday was an absolute embarrassment for the entire Pirates organization. Not too long ago, this franchise was handing out bobbleheads honoring players winning silver slugger and MVP awards.
Now, the best moment they have to celebrate is a walk off home run by a player that has never been an everyday starter.
Next, you have the Pirates manager using the sound logic of playing utility guy to get out of a slump over Josh Harrison, a starter who is also slumping at the plate and whose bat means much more to the team. If Hurdle really wanted his team to win games would the focus be on getting Harrison back in rhythm before Rodriguez?
Finally you have the player who is being honored that day play one of his worst games of the season; which is almost impressive when you consider just how bad of a year he has had.
In the 17 years PNC Park has existed, I can only recall two players to receive an "M-V-P" chant. The first being Andrew McCutchen, who actually won the award in 2013 and Rodriguez being the second.
Clint Hurdle put Rodriguez in a really bad situation on Saturday by placing him in the lineup and things essentially went as worse as they possibly could. Rather than giving his team their best chance to win, he allowed his own player to get booed and mocked by a stadium of fans who have seen just about enough nonsense for this year.
It is hard enough for the Pirates to convince fans to head out to games when they refuse to spend money on free agents, draft poorly and fail to develop their young talent.
Days like Saturday only add fuel to fire of many angry fans. Eventually this fire will grow so out of control that no one will even care; it will be too big to stop.
When the booing turned into sarcastic laughter it showed that fans, even the die-hard ones, are being to not take this team, this manager and this front office seriously.
Though attendance has been drastically low, Saturday was the most blatant showing of apathy all year. If felt as if we were back in the dark days of Pirates history; which makes me wonder if that feeling will once again become reality.
Either way, at least 20,000 lucky fans left with a Sean Rodriguez bobblehead which will make for an incredible contribution to their office's white elephant gift exchange next winter.