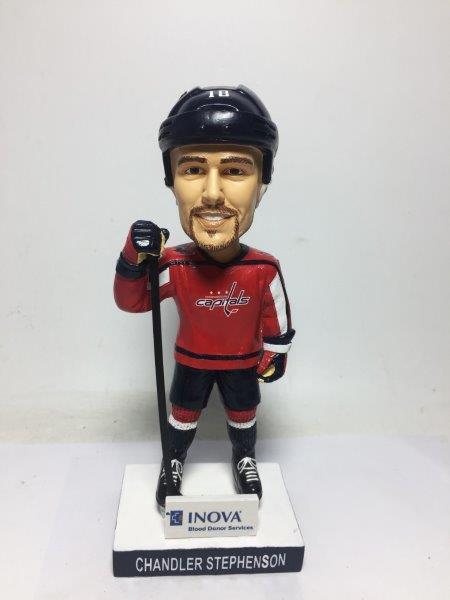 Donate blood with the Caps on July 14 and you'll get a Chandler Stephenson bobblehead By Rachel Cohen
Monday afternoon, the Capitals released the details of their next blood drive. The drive will take place on July 14, from 7am-5pm at Kettler Capitals Iceplex.
Fans who donate will receive a t-shirt and a snazzy Chandler Stephenson bobblehead. Past blood drive bobblehead recipients include Jakub Vrana and Capitals Radio announcer John Walton.
Those who wish to donate blood must make an appointment by calling 1-866-BLOODSAVES (1-866-256-6372) or by going onto the Inova Blood Donor Services website. Slots will fill up fast, so make sure to make your appointment ASAP!
A friendly reminder to our many readers who celebrated the Caps' Stanley Cup win by getting tattooed: There is currently no wait to donate blood when your tattoo is received in a state-regulated facility using sterile single-use equipment. The tattoo site must be properly healed. However, there is a one-year wait when received in District of Columbia, Georgia, Idaho, Maryland, Massachusetts, Nevada, New Hampshire, New York, Pennsylvania, Utah and Wyoming and outside of the United States. For more info on Inova's donation eligibility, visit their website here.