Sarah Fuller Bobblehead Unveiled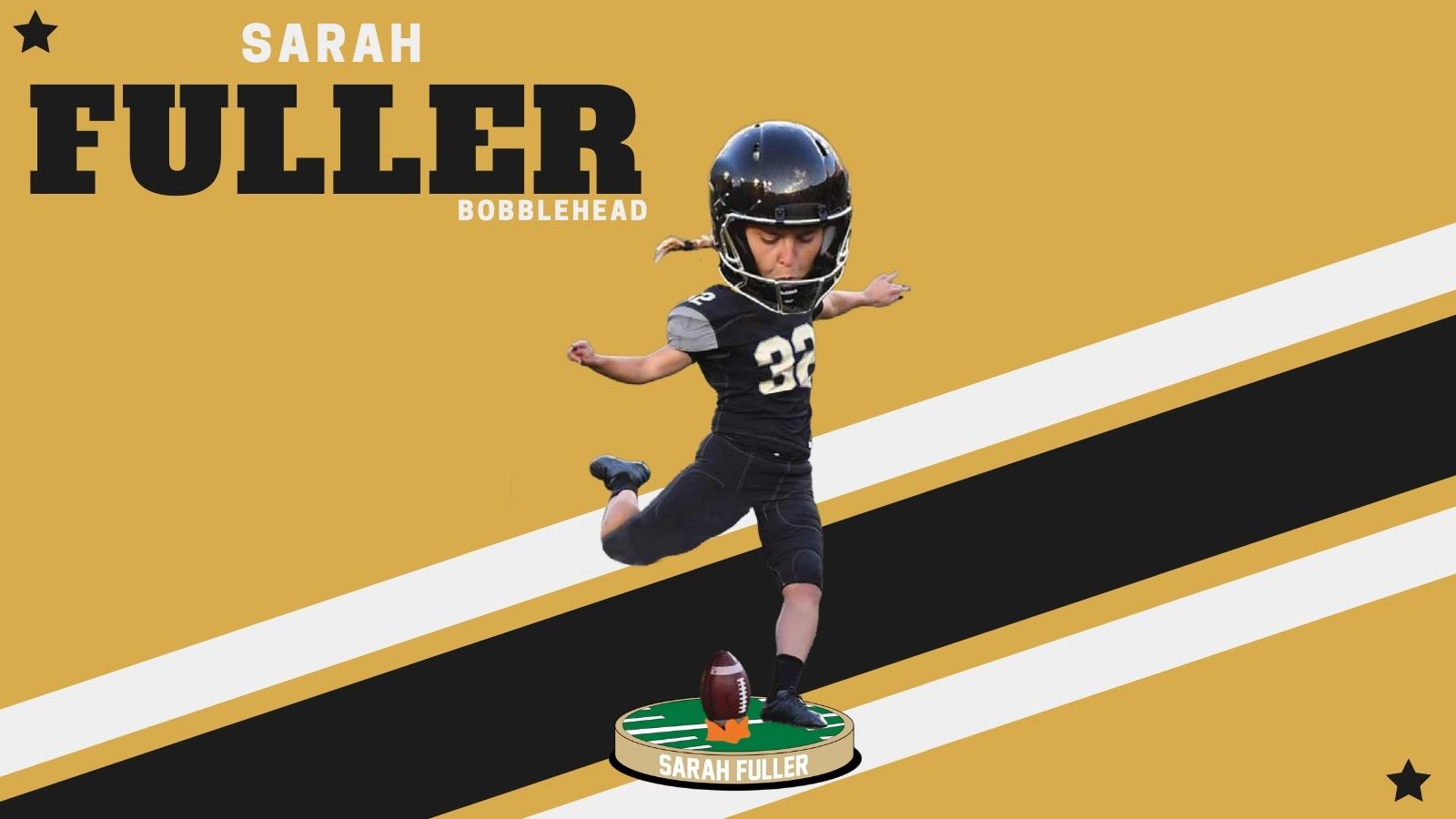 MILWAUKEE – This morning, the National Bobblehead Hall of Fame and Museum unveiled a limited-edition bobblehead of Sarah Fuller. Fuller made history when she played for the Vanderbilt University football team as a placekicker in 2020. A native of Wylie, Texas, Fuller became the first signee by Minnesota Aurora FC of the USL W League and will begin playing for the team in May. The bobblehead, which celebrates Fuller's accomplishments and serves to inspire, is being released to coincide with Women's History Month.
Wearing a black Vanderbilt football uniform with a gold No. 32 on the front, back and sleeves, the smiling Fuller bobblehead is holding a football helmet with a decal on the front which reads "PLAY LIKE A GIRL." The circular football field base bears her name.
Each bobblehead will be individually numbered to 2,020 and they are only available through the National Bobblehead Hall of Fame and Museum's Online Store. The bobbleheads are $30 each plus a flat-rate shipping charge of $8 per order and they are expected to ship in August. They are being produced by the National Bobblehead Hall of Fame and Museum in conjunction with Fuller.
A native of Wylie, Texas, Fuller was named the District 6-6A Goalkeeper of the Year as a senior at Wylie High School. She was a four-year member of the Vanderbilt soccer team, earning the starting role as a senior after battling injuries in her first three seasons. In 2020, she led the SEC with a 0.97 goals-against average and led the seventh-seeded Commodores to their first SEC Tournament championship since 1994. After the conclusion of the soccer season, Fuller was invited to join the Vanderbilt football team when the squad was left without a kicker due to COVID-19.
On November 28th, 2020, Fuller suited up for the Commodores in a game at Missouri. When Fuller kicked off to open the second half, she became the first woman to play for a Power 5 conference team. Fuller trended on Twitter for much of the day and her kick was the top video clip of the week on ESPN's digital platform. She also shared SEC Special Teams Player of the Week honors. Two weeks later, Fuller became the first woman to score in a Power 5 conference game with a pair of extra points against Tennessee. The phrase, "PLAY LIKE A GIRL" was visible on the back of her helmet during the game.
After graduating in May of 2021, Fuller transferred to the University of North Texas where she led the soccer team to an 8-5-4 overall record while starting in all 17 games and studying for her master's degree in hospital administration. On February 7th, Fuller was announced as the first-ever signee by Minnesota Aurora FC, which will begin play in the USL W League in May.
When asked about being honored with the bobblehead, Sarah said, "I hope this bobblehead will inspire girls and women everywhere that we can break boundaries in the sports world and beyond."
"We are excited to release this bobblehead of Sarah Fuller commemorating her history-making accomplishments," National Bobblehead Hall of Fame and Museum co-founder and CEO Phil Sklar said. "Sarah has already made a huge impact by empowering girls and women of all ages, and we think this bobblehead will be a source of inspiration for many."
About the National Bobblehead Hall of Fame and Museum:
The National Bobblehead Hall of Fame and Museum, which is located at 170 S. 1st St. in Milwaukee, Wisconsin, opened to the public on February 1st, 2019. The HOF and Museum also produces high quality, customized bobbleheads for retail sale as well as organizations, individuals, and teams across the country. Visit us online and on Facebook, Twitter and Instagram.