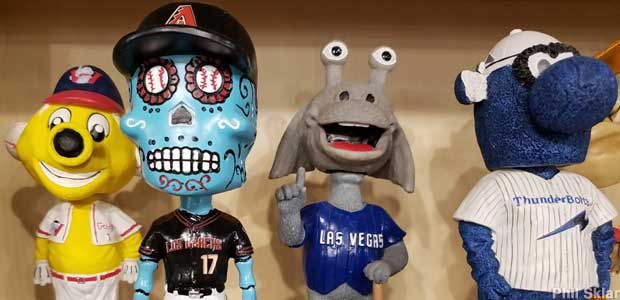 From Roadside America
We've encountered (and in some cases, acquired) many offbeat roadside-related bobbleheads over the years, from an ax-wielding mom to a superhero tire woman to a pagan god with bobbing buttocks. They may seem exotic, but they're just one weird group among many at the National Bobblehead Hall of Fame and Museum.

Phil Sklar says he can "probably" find any bobblehead in the museum blindfolded.
"We have over 10,000 bobbleheads in our collection, but there are hundreds of thousands out there," said Phil Sklar, who opened the museum with co-founder Brad Novak in 2019. When we told Phil how surprised we were by the sheer number of bobbleheads in existence, he understood. "Most people are surprised," he said. "But nothing surprises us any more."

Baby Trump surrounded by Presidents, First Ladies, Edgar Allan Poe, and Jesus.
According to Phil and Brad, the modern mass-produced bobblehead — a small plastic body mounted to a large head on a spring — only dates to 1999. It quickly became the free giveaway of choice in professional sports. Every baseball team, for example, has players, coaches, mascots, stadium employees, and 162 games a season — plenty of candidates and opportunities for bobblehead ennoblement. "Plus every baseball team has three or four minor league affiliates," said Phil. The first bobblehead acquired by Phil and Brad, preserved in a special case in the museum, is Rocko, mascot of the minor league baseball team in their hometown of Rockford, Illinois.
Rockford, Illinois? We half-jokingly wondered if the "Home of the Sock Monkey" town had ever considered a sock monkey bobblehead. "We have one in the museum," said Phil.

Mr. Hankey wobbles with Christmas cheer.
Not every bobblehead succeeds. An unwanted, wobbling version of the Seattle Space Needle, found by Phil and Brad on a dusty shelf in the Needle gift shop, probably gave a bad impression of the structure's stability. The jiggly version of the Old Man of the Mountain — a natural wonder that collapsed in 2003 — proved unfortunately prophetic.
But a few flops have done nothing to cool bobblehead fever. Bobbleheads now exist for pretty much every category of person or thing imaginable: politicians, porn stars, supreme court justices, Space Shuttle astronauts, superheroes, serial killers, corporate pitch spokespeople and cartoon characters, famous scientists, Classic Rock musicians, entire casts of movies and TV series, historical figures, trending news stories, internet memes, even mash-ups combining bobbleheads of one type with another. You may already have a bobblehead of your favorite sports mascot, but you'll have to go to another game to get one of the mascot holding a lightsaber.
The diversity of the collection presents a challenge for Phil and Brad, who want to present a balanced bobblehead museum without going too far askew. Awkward bobbleheads, such as the mass murderers, are currently out of view in the basement, which Phil described as the Bobblehead Hall of Shame (Much like the Hitler dispenser in the back room of the Pez Museum). "Maybe at some point we'll have a Behind the Scenes tour," said Phil. A set of pink-haltered, bobbling boobs is on public display, but they are noble boobs, given out during a minor league Breast Cancer Awareness Night. "It wasn't just boobs bobbling for the sake of boobs," Phil said.

Rhashan, the "Director of Smiles," backed by President Wilson and beloved groundskeeper Jake Tyler.
For around $100 Phil and Brad can make you your own one-of-a-kind bobblehead — but don't expect to see it in the museum. Vanity bobbleheads, said Phil, are not reliable barometers of fame or history. Mass-produced bobbleheads, on the other hand, still require someone or something special. "Less than .001 percent of the population has a mass-produced bobblehead," said Phil. "Once you have one of those, you've made it."

Slasher film franchise favorites.
Phil and Brad have set up several of the museum's bobbleheads as educational tools: Martin Luther King Jr., Rosie the Riveter, even hometown Milwaukee celebrity Liberace. "Teachers have used bobbleheads in the classroom really successfully," said Phil. "Maybe a kid is intrigued by a bobblehead in the museum and goes home and reads their biography."
A bobblehead museum where many of the bobbleheads are displayed behind glass has a unique problem: how do you make the exhibits bobble? Phil said that the museum may install some motion-activated shelves in the future, but for now the wood floors have a little bit of give, so gentle agitation action is possible — at least for heavy-footed visitors. "We used to tell kids to jump up and down if they wanted to see them bobble," said Phil. "We don't tell them that any more. They were jumping so hard we could feel it on the other side of the building."