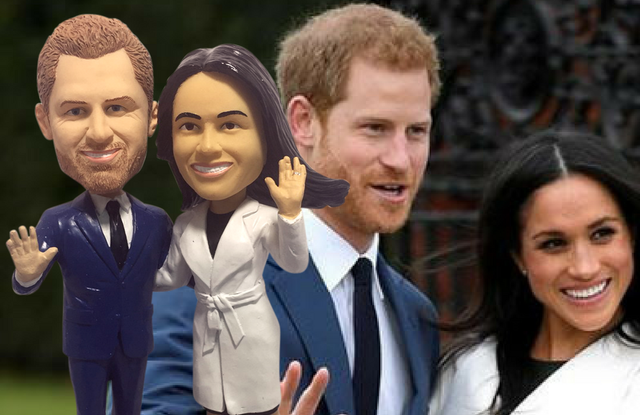 WEDDING MEMENTOS: Forget the royal wedding-inspired mugs, tea towels and wooden spoons, the National Bobblehead Hall of Fame and Museum has released a bobblehead of Prince Harry and Meghan Markle. The beaming figurines are meant to be reminiscent of their engagement announcement. The bride-to-be waves in what is meant to be the emerald P.A.R.O.S.H. dress and the belted white Line the Label coat. Retailing for $30, the seven-inch bobbleheads are shipped in a collector's box.
Madame Tussauds London has its own depiction of Markle wearing the sleeveless P.A.R.O.S.H. shift that will be officially unveiled Friday. Whether having your designs immortalized on wax figures and bobbleheads is a form of flattery or parody was an open-ended question Wednesday. P.A.R.O.S.H. founder Paolo Rossello and Line the Label cofounder John Muscat did not respond immediately for a request for comment. Legoland is also celebrating Saturday's royal nuptials early with a royal wedding exhibition that features figures of Prince Harry and Markle decked out to say "I do."
The Royal Wedding bobbled is capped at about 20,000 units, according to Phil Sklar, cofounder and chief executive officer of the National Bobblehead Hall of Fame. While the keepsake was in motion after the royal couple's engagement, the Hall of Fame and Museum is still a work in a progress. Announced in 2014, it held a preview exhibit in 2016 and a permanent location is slated to open in Milwaukee next month.
The worldwide wedding mania has been fashion companies offering their own takes on the modern bride and suitable wedding guest attire. The New York bridal emporium Kleinfeld will welcome brides-to-be for a shopping soirée Saturday spotlighting regal wedding dresses and sparkling tiaras inspired by Markle. Starting at 8 a.m., clients will toast the day with royal wedding cake-inspired cocktails and tea-sandwiches sponsored by SpikedSeltzer. Designers Rime Arodaky and Kimora Lee Simmons have each dreamt up wedding-appropriate dresses in their respective spring collections. In addition, Ego Soleil and Faviana are among the many labels now pitching their designs as wedding-friendly. The Bridal Council is geared up for its "Wedding Weekend" with special events and trunk shows planned with various retailers, including Saturday's Baccarat-sponsored "We Said Yes" event at Bloomingdale's.