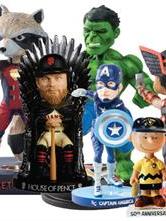 Charlie Brown, Darth Vader, Captain America and Lord Snow are packing 'em in at the ballpark. Or at least they did in 2017.
More accurately, the four fictional characters each played a critical role in the evolution of a new data-driven mentality that is reshaping the way Major League Baseball clubs build their game-day promotional schedules.
The licensing arms of those entertainment brands, along with those of Hello Kitty and classic rockers Jerry Garcia, Jimmy Buffett and the Beatles, combined to activate at 98 MLB games last season, according to SportsBusiness Journal's 12th annual analysis of MLB game-day promotions, more than double the number of dates that were staged by entertainment properties in 2016, and triple 2015's total.
The promotions typically included a stadium-wide takeover, complete with walk-up music for the batters, video-board graphics, roaming costumed characters mingling with similarly dressed fans, and postgame fireworks synced with a soundtrack from the night's theme. But while the masses were enjoying the unique atmosphere, somewhere in the ballpark a small group paid a premium for an experience that, depending on the theme, may have included meeting a Wookiee before the game and receiving a bobblehead that was exclusive only to them.
As a bonus to the teams, the packages are often purchased by people who are not part of a club's typical target.
The Milwaukee Brewers, a franchise that's historically one of the most active when it comes to game-day promotions, built a new data-driven business model last year to maximize the effectiveness of these types of activations.
"There's a stature to those pop-culture brands," said Teddy Werner, the Brewers' vice president of marketing and business strategy. "Not only can you give away an exclusive item, like our limited-edition Jedi Keon bobblehead — but the activation throughout the ballpark enhances the experience for all the fans. More importantly, of the 25 different theme night packages we offered [in 2017], our analytics team determined that 25 percent of the tickets we sold were truly incremental, meaning these were fans that had never, or would likely not have ever, attended a game at Miller Park."
The team is able to identify social media followers of brands like "Star Wars" who can be targeted with ads. For example, the team's Grateful Dead night was slotted on an August weeknight when the Twins were in town, which was not projected to be a high-demand game. The Brewers sold all 3,900 of their special-event tickets. Overall, 30,174 fans turned out — 12.4 percent higher than the other dozen Wednesday night home games the team played this year.
Werner said sales of the Brewers' themed ticket packages could have been higher if not for conservative estimates during year one of the more robust theme-night program.
Mindy Hamilton, senior vice president of global partnerships for Marvel, which is owned by The Walt Disney Co. (NYSE: DIS), echoed Werner's comments about the entertainment industry's ability to increase game-day revenue.