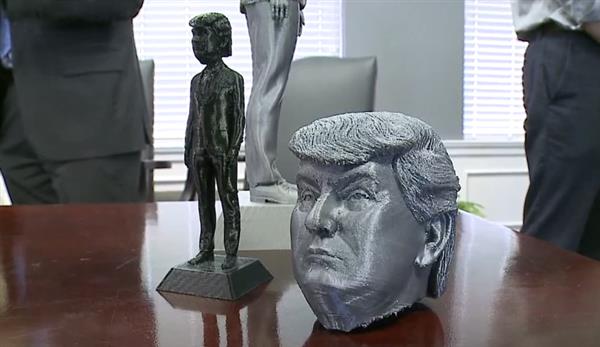 As the 2016 Presidential Elections get closer and closer, both Donald Trump and Hillary Clinton's campaigns continue to rage on. In an amusing blip in an otherwise bleak and frustrating process, the Youngstown/Warren Regional Chamber in Ohio commissioned a larger-than-life 3D printed bobblehead of Donald Trump to be unveiled at the Republican National Convention in Cleveland later this month. The Regional Chamber, the lead economic development organization representing Ohio's Mahoning and Trumbull counties, is also planning to present a 3D printed Hillary Clinton bobblehead alongside the Trump one at the Dayton Presidential Debates.
While you may be wondering why the Youngstown/Warren Regional Chamber may be poking fun at the United States' potential future leaders, there is actually a deeper reason for the impressive 3D printed bobbleheads. That is, by displaying the larger-than-life 3D printed statues, the Ohio-based non-profit is hoping to make a statement and put the Mahoning Valley region on the map as a hub for additive manufacturing technologies and businesses.
When the plans for the bobbleheads were announced last month, Guy Coviello, the chamber vice president for government affairs, explained, "Normally bobbleheads are thought of as cute or funny. They may be described as something less complimentary but regardless of how they're described, they are delivering a very serious message: that the Mahoning Valley is high-tech."
The 3D printed bobbleheads are being designed locally at Freshmade 3D, a Youngstown based 3D printing service that specializes in the 3D printing of rare and custom automotive parts, and will be 3D printed in collaboration with Columbiana-based Humtown Products the Youngstown State University. The 3D printed structure will be made from plastic with an aluminum coating (another vibrant industry of the region) and will be supported internally with steel.
Since the announcement of the 3D printed life-size presidential nominee bobbleheads last month, the project has indeed gained a significant amount of attention, even on an international level. The Danish Broadcasting Corp. has reportedly approached representatives from the Youngstown/Warren Regional Chamber and Freshmade 3D to make a documentary on the project which will air on September 11th. The Chamber representatives have reportedly also met with Japanese singer Yoko Noge Dean, and Toyoki Nakanishi from the Nikkei Asian Review, a publication with a circulation of over 3 million.
Notably, the National Bobblehead Hall of Fame and Museum in Milwaukee, Wisconsin has also connected with the people responsible for the 3D printed presidential nominee bobbleheads to help promote them.
As the Republican National Convention in Cleveland nears, the 3D printed Donald Trump bobblehead will soon be on display for the whole world to see, likely drawing some laughs but also putting Ohio on the map as a productive center for 3D printing.