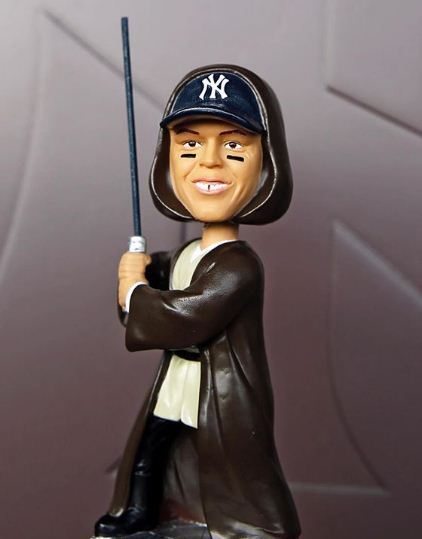 Three weeks before the release of Solo: A Star Wars Story, the New York Yankees are celebrating Star Wars Night by giving out Aaron Judge Jedi bobbleheads on May 4.
As Darth Vader said in Star Wars: A New Hope, "The force is strong with this one." Vader was referring to an X-Wing pilot who was trying to blow up the Death Star (did he not know it was his son?), but the words apply perfectly to New York Yankees outfielder Aaron Judge. Only new teammate Giancarlo Stanton hit more home runs than Judge hit last year and only Joey Gallo had a higher hard hit percentage.
Judge will be back launching bombs in the Bronx this season, and the Yankees plan to honor the young player with his own bobblehead. To the delight of Star Wars fans everywhere, it will be a Jedi Judge bobblehead, with Judge holding a lightsaber and wearing the modest but recognizable boots and robe of the Jedi.
The bobbleheads will be given out on May the 4th because "May the Fourth Be With You" is the perfect day to celebrate Star Wars, especially for people with a lisp. Single-game tickets go on sale on February 21. With the Yankees lineup stacked with power, Judge won't be the only player using the force. Stanton led the majors in home runs last year, and catcher Gary Sanchez hit 33 dingers.