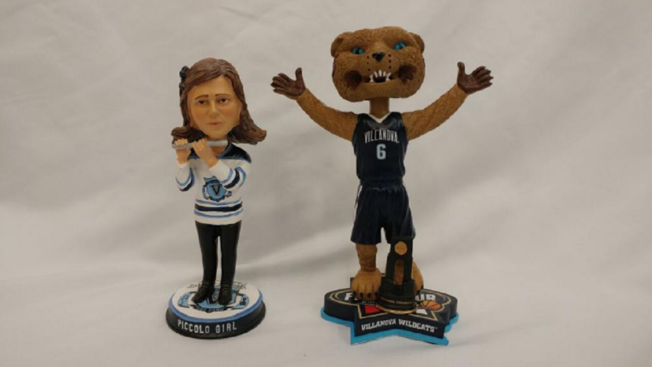 New Bobblehead Honors Championship Villanova Basketball Team By Alison Burdo
Villanova University's "Piccolo Girl" is a thing of the past.
Several months after the Wildcats' men's basketball team clinched the NCAA national championship with a buzzer-beating three-pointer, the National Bobblehead Hall of Fame and Museum unveiled a new bobblehead honoring the team.
Starting Thursday, fans can get the Nova mascot – Will D. Cat – bobblehead, which includes a replica of the National Championship trophy.
"It was great working with Roxanne last year creating the Piccolo Girl bobbleheads, and after the heartbreak of last year, this was such a fitting ending," said Phil Sklar, CEO of the National Bobblehead Hall of Fame and Museum.
Roxanne Chalifoux rose to fame in 2015 after Villanova was ousted from the tournament. Cameras found her continuing to play the piccolo in the stands as tears streamed down her face.