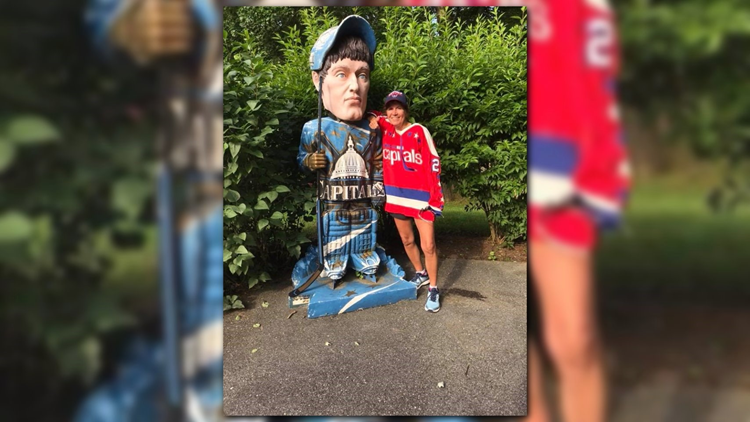 WASHINGTON (WUSA9)–Just when you thought you've seen it all, a giant bobblehead appears in your inbox.
With the Washington Capitals having a chance to win the Stanley Cup Final, something that they haven't had a chance to do in 20 years, we've had the opportunity to do a lot of great stories on Caps fans.
Definitely something I hadn't seen before.
After contacting Rosanne Terman (pictured) and her husband, the story of the giant bobblehead was revealed.
Seven or eight years ago, the couple heard that the NHL was raising money for cancer and each NHL team had an oversized bobblehead made to sit outside of the the arena for the entire season.
At the end of the season, the NHL decided to auction off each of the bobbleheads.
The Termans don't remember exactly how much they purchased the bobblehead for, but they said it was at least several thousand dollars.
If you look closely, you can see exactly who the bobblehead is supposed to be.
None other than Oalie the Goalie, or Olaf Kolzig who was a big deal when he played with the Caps for a total of 15 seasons.