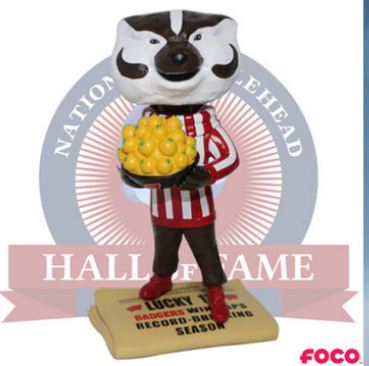 MILWAUKEE, Wis. – The National Bobblehead Hall of Fame and Museum released an officially licensed, limited edition bobblehead commemorating the Wisconsin Badgers record-breaking 2017 season Thursday.
A release said the bobblehead features Wisconsin mascot, Bucky Badger, standing on a newspaper base with the headline "Lucky 13! Badgers Win Caps Record-Breaking Season."
In the 2017 season, the Badgers football team won a school-record 13 games including the Orange Bowl, where they defeated the Miami Hurricanes 34-24.
"Wisconsin fans were extremely proud of the team's tremendous accomplishments in 2017 including a big win in the Orange Bowl," said Phil Sklar, co-founder and CEO of the National Bobblehead Hall of Fame and Museum. "We thought this bobblehead would be the perfect way for Badgers' fans to remember the great season. With the Badgers ranked 4th in the preseason polls, Badgers fans will be hoping for a 2018 edition featuring Bucky holding a National Championship Trophy!"
The initial run of 360 bobbleheads is scheduled is scheduled to ship in September. The bobbleheads, which are numbered to 1,000, are $40 each plus a flat rate shipping charge of $8 per order.