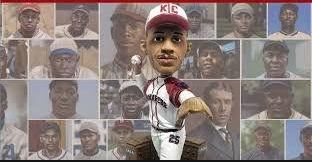 If you're a historian, collector or a fan of Negro League baseball, a new campaign should be of interest to those who followed the great teams and players from that era. The National Bobblehead Hall of Fame and Dreams Fulfilled has launched a Kickstarter Campaign to created a series of officially licensed, limited edition bobbleheads to commemorate the 100th anniversary of the founding of the Negro National League that will be held in 2020 according to a news release.
The goal is to recognize the league and its outstanding players with a bobblehead. Each one in the series will be individually numbered to 2,020 and will come in a collector's box with a "back story" of the player.
The bobblehead series is officially licensed by the Negro League Baseball Museum. They're being produced by the National Bobblehead Hall of Fame and Museum in conjunction with Dreams Fulfilled and the Negro Leagues Baseball Museum.
If the Kickstarter Campaign is successful, production for the other bobbleheads will begin. Negro League players expected to receive bobbleheads include: Biz Mackey, Hilldale Daisies, Philadelphia Stars; Buck Leonard, Homestead Grays; Bullet Joe Rogan, Kansas City Monarchs; Cool Papa Bell, Homestead Grays; Hilton Smith, Kansas City Monarchs; John Donaldson, Kansas City Monarchs; Jose Mendez, Kansas City Monarchs; Josh Gibson, Pittsburgh Crawfords and Roy Campanella, Baltimore Elite Giants.
The bobbleheads will be available on the National Bobblehead Hall of Fame and Museum's online and retail stores, Dreams Fulfilled's website, www.negroleagueshistory.com, the Negro League Baseball Museum store and other locations around the country.
The Negro League Centennial Team (1920-2020) will be put together from 30 of the best African-American and Cuban players from 1895 to 1947. Each player will be designed on a baseball-shaped base with a replica of Kansas City's Passeo YMCA, the site where the Negro National League began on Feb. 13, 1920.
Satchel Paige was the first player chosen for the centennial team. There will be 10 additional pitchers, three catchers, five outside infielders (first base, third base), three inside infielders (second base, shortstop), seven outfielders, one utility player, a manager and an owner voted on by an on-line poll at www.negroleagueshistory.com. The Negro Leagues Centennial Team were announced on Wednesday at a special event at the Negro Leagues Baseball Museum (NLBM) in Kansas City, Mo. The campaign will end Jan. 7, 2019.
"We are thrilled to commemorate a historic number of former Negro League players with bobbleheads, which are the ultimate honor," said Phil Sklar, co-founder and CEO of the National Bobblehead Hall of Fame and Museum in a statement. "Many of these players have never had bobbleheads, and these bobbleheads will help ensure that their legacy and vital contribution to baseball and society is always remembered."