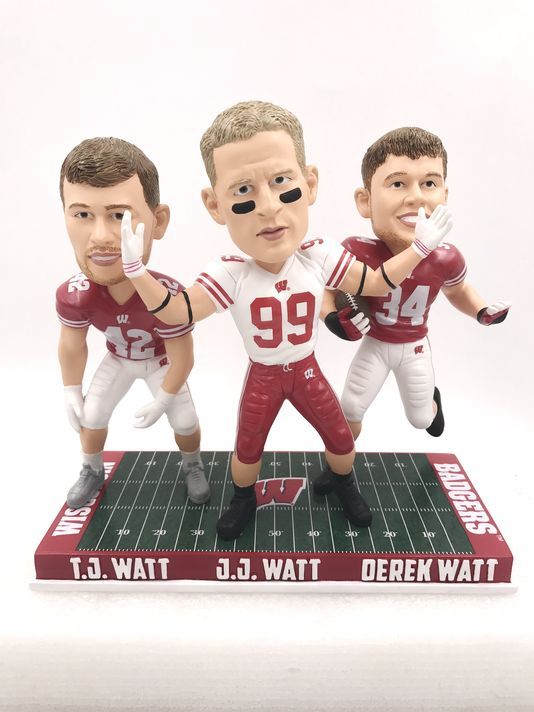 The first season with all three Watt Brothers in the NFL took an unfortunate turn recently when J.J. Watt, the three-time Defensive Player of the Year for the Houston Texans, was lost for the season with a serious leg injury.
More: The Wattch: Checking in with Pewaukee brothers J.J., T.J. and Derek Watt during the 2017 NFL season
But the Pewaukee brothers already have a huge place in Wisconsin sports history, and that will be immortalized by the National Bobblehead Hall of Fame and Museum, a Milwaukee-based operation which will unveil its limited-edition Watt Brothers Wisconsin Badgers bobblehead on Thursday, Oct. 19.
JJ, Derek (in his second year with the Los Angeles Chargers) and T.J. (a rookie with the Pittsburgh Steelers) are portrayed on the bobblehead donning their Badgers uniforms on the Badgers' field. It's the first bobblehead portrayal for both Derek and T.J.
Phil Sklar's tips on getting your bobblehead collection started. Sklar is the co-founder and CEO of the National Bobblehead Hall of Fame and Museum. Sherman Williams/Milwaukee Journal Sentinel
J.J., of course, became the second Pewaukee High School alumnus drafted into the NFL when he joined former first-round draft choice Chris McIntosh with that distinction. Watt was taken 11th overall in the 2011 NFL Draft and has been named first-team All Pro four times.
Derek, a fullback, was taken in the sixth round of the 2016 draft and rejoined former Badgers teammate Melvin Gordon with the Chargers. T.J. was taken with the 30th pick by the Steelers in the 2017 draft and has already surfaced as a potential Defensive Rookie of the Year candidate.
"When T.J. was drafted by the Steelers earlier this year, we knew that a triple-bobblehead of the Watt brothers would be very popular for Badgers fans and fans of the Watt brothers," said Phil Sklar, co-founder and CEO of the National Bobblehead Hall of Fame and Museum. "The Watt brothers have accomplished so much both on and off the field, and this bobblehead is the perfect way for fans to celebrate their accomplishments."