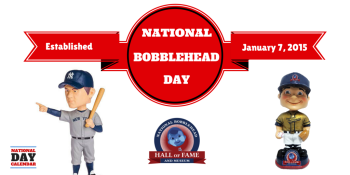 The Registrar of National Day Calendar has designated January 7 as National Bobblehead Day.  This day recognizes a day of celebration for all spring-connected head bobbing figurines.
Bobbleheads have been around for over 100 years and are found in different shapes and sizes. However, none are more popular than those that depict athletes, professional sports teams, mascots, cartoon characters, and celebrities.
On November 18, 2014, the National Bobblehead Hall of Fame and Museum was announced. The museum will open in 2016 in Milwaukee, Wisconsin, and will house the world's largest collection of bobbleheads, a hall of fame section for the best bobbleheads, as well as many exhibits related to the history and making of bobbleheads, and much more.  For addition information on the National Bobblehead Hall of Fame and Museum visit www.bobbleheadhall.com.
Submitted by the National Bobblehead Hall of Fame and Museum in December 2014 in accordance to the policies set forth to designate a National Observation Day. This proclamation has been certified by the Registrar at National Day Calendar.
Stay tuned to social media for promotions, announcements and special offers from teams, retailers and manufacturers across the country!
For more information click here.