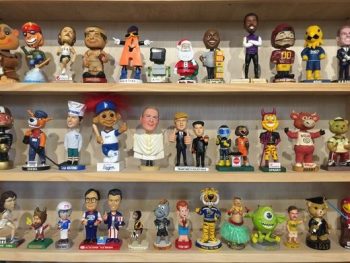 Written by: Atlas Obscura
At the world's only museum entirely dedicated to bobbleheads, you can learn about the history of this singular head-nodding doll, browse through the thousands of bobbleheads that are on display, and even design a custom oversized plastic head in your own likeness.
While the bulk of the collection is sports figures, you will also see the wobbling heads of cartoon characters, pop culture icons, celebrities, politicians, and even a six-foot-tall, life-sized bobblehead in this unique collection.
The museum has been open since February 2019, but the co-founders, Brad Novak and Phil Sklar, have been collecting bobbleheads since 2002. Once they announced plans to open a museum, bobblehead collectors began adding to the assortment. Today the collection numbers over 10,000 bobbleheads, with some 6,500 currently on display at the Milwaukee museum.
Know Before You Go
The museum is located on the second floor of the building; the staircase and elevator are accessible from the parking lot. Admission is $5.