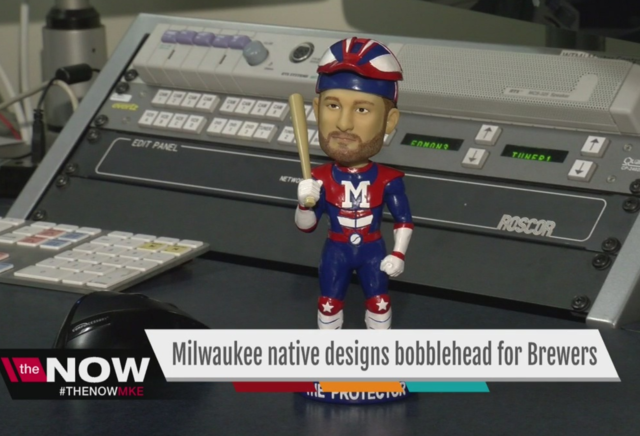 From TMJ4 Milwaukee – Working for the Brewers is a dream for any baseball fan, but imagine taking it one step further. Jessie Garcia spoke with a Milwaukee native who has done something truly unique.
Every time you look at the Miller Park scoreboard, you're witnessing the handiwork of Motion Graphics Designer Steve Armendariz and his team. Steve is a graduate of Greendale Martin Luther High School and UW-Whitewater.
"If I could have told myself as a little kid that this would be my job
"Mostly I just thought about comic book artists that I really, really loved as a kid. In my attic I have thousands of comic books, paged through some of those and Googled my favorite artists and looked at their sketches."
He looks at one comic book in particular and points out areas that appeal to him.
Police Need Your Help To Find Truck In Deadly Hit-And-Run
"I just like the proportions of his anatomy. I think it's perfect the way he draws faces and eyes."
He also planned for bright, superhero colors, did some prototype sketches and landed on the finished product. The finished product is a red and white-clad Jonathan Lucroy named "The Protector" which just arrived on Steve's desk.
"I had just seen pictures of it up until about a week ago. A week ago is when I first saw the actual bobblehead and it felt really weird to go from a 2D thing to a 3D thing I could hold."
When Steve sees people in the stands with his bobblehead, it will be pretty special.
"Very surreal. To see people holding onto something I had drawn will be bizarre."
You can get your very own on Saturday, April 30. That is "Superhero Night" and yes, you are encouraged to wear any costume you like as well. Steve is now working on scoreboard graphics for opening day, "Superhero Night" and beyond.