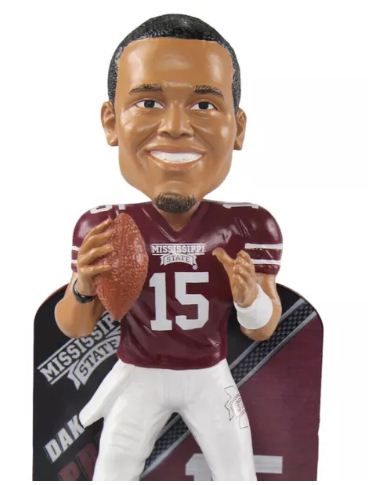 Mississippi State Football fans love Dak Prescott. We can't get enough of the former signal caller for the Bulldogs who is now the starting quarterback for the Dallas Cowboys. The one thing most of us might not have though is a Mississippi State Dak Prescott bobblehead.
Well that can be rectified now. The National Bobblehead Hall of Fame and Museum released a Dak Prescott Mississippi State bobblehead this morning. This is the second bobblehead in his Mississippi State uniform the HOF has released. Here are the details from the press release.
Dak Prescott Mississippi State Maroon Jersey Bobblehead Unveiled

Limited Edition bobblehead featuring former Mississippi State Bulldogs standout Dak Prescott are now available from the National Bobblehead HOF and Museum.

MILWAUKEE, Wi., December 7, 2017 – – Today, the National Bobblehead Hall of Fame and Museum unveiled a limited edition bobblehead featuring former Mississippi State Bulldogs standout and current Dallas Cowboys quarterback, Dak Prescott in the maroon Mississippi State University jersey. Earlier this year, the National Bobblehead HOF released the first bobblehead featuring Prescott is his college uniform. That bobblehead quickly became a best seller, leading to the production of a second version featuring the maroon jersey.

Both bobbleheads are individually numbered to only 2,017 and are $40 each. They are available only from the National Bobblehead Hall of Fame and Museum. The bobbleheads were produced by FOCO and are officially licensed.

Before leading the Dallas Cowboys to a dramatic turnaround in 2016 during his rookie campaign, Prescott was a stand-out at Mississippi State. Prescott was selected by the Cowboys in the fourth round of the 2016 NFL Draft. Prescott attended Haughton High School in Haughton, Louisiana. In his first season as the full-time starter at Mississippi State in 2014, Prescott led the Bulldogs to a 10-2 regular season record and the team's first #1 ranking in school history. Prescott set several records and captures many awards during his career at Mississippi State.

After expecting to serve as a backup during his rookie year with the Cowboys, Prescott was thrust into the starting role when Tony Romo was injured during preseason play. Prescott set several rookie quarterback records, was named NFL Offensive Rookie of the Year and earned a Pro Bowl selection.

"Mississippi State fans showed how much they love Dak and all that he has accomplished so far in his young career," said Phil Sklar, Co-Founder and CEO of the National Bobblehead Hall of Fame and Museum. "This bobblehead will make a great addition to fans' collections."

The Hall of Fame and Museum has a large selection of Prescott bobbleheads available, which also include several featuring the quarterback in the Dallas Cowboys jersey. Prescott even received the honor of having a 3-foot tall bobblehead made in his likeness, which is an honor reserved for the biggest stars.

About the National Bobblehead Hall of Fame and Museum:The National Bobblehead Hall of Fame and Museum was announced in November 2014. The HOF and Museum hosted a Preview Exhibit in 2016, and is currently planning for a permanent location, which is expected to open this winter. The HOF and Museum also produces high quality, customized bobbleheads for organizations, individuals and teams across the country. Visit us at www.BobbleheadHall.com, www.facebook.com/BobbleheadHall or www.twitter.com/BobbleheadHall.
As the press release states, there were only 2,017 of these bobbleheads made, so if you want one, you better act quickly. I wouldn't expect them to be around long.