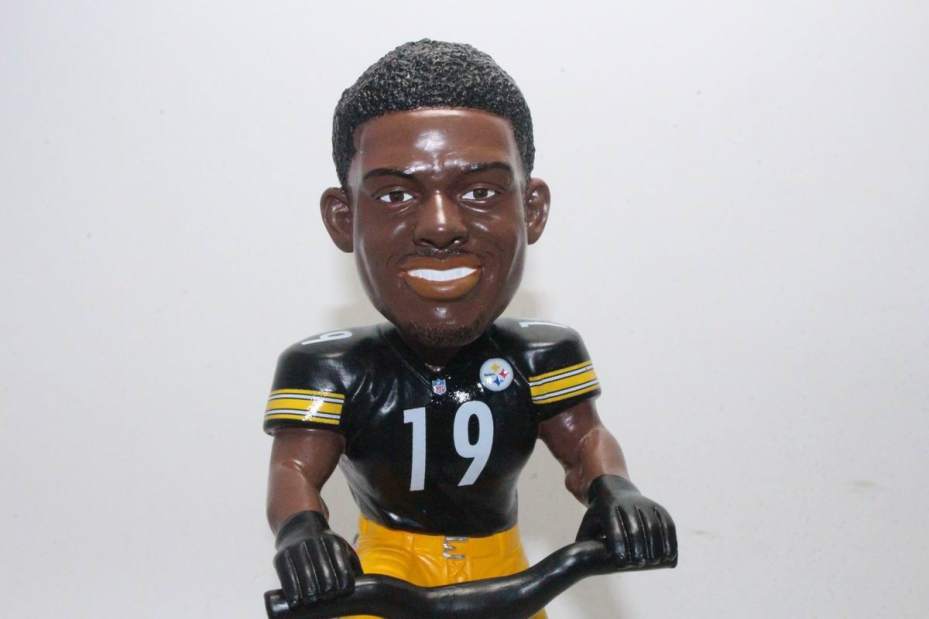 If you somehow think JuJu Smith-Schuster hadn't "made it" after an eventful first year in the NFL, it's official now. He's being immortalized via a novelty trinket by the National Bobblehead Hall of Fame and Museum.
Introducing the "JuJu's Sweet Ride" bobblehead featuring the Steelers precocious receiver riding a bicycle.
According to National Bobblehead Hall of Fame and Museum co-founder and CEO Phil Sklar, the limited-edition bobblehead will be released Friday.
Only 1,000 of the bobbleheads are to be made, Sklar said in an email, and they can be purchased for $40 (plus $8 shipping) with an expected May delivery. Each bobblehead will be individually numbered, and they are officially licensed for use of the "Steelers" script logo and with a Steelers jersey on Smith-Schuster.
An Oct. 24 social media post of Smith-Schuster walking to practice went viral because in it he said someone had stolen his bike. The then-20-year-old rookie did not yet have his driver's license; a Southern California native and USC alum, he said he never had the need for one.
"When we saw the story about JuJu and his bike, we thought it would be the perfect opportunity for a fun bobblehead," Sklar said in a prepared release. "We think it turned out great, and we're confident JuJu and Steelers fans everywhere will agree."
A second-round pick last April, Smith-Schuster ascended to the Steelers' No. 2 wide receiver and was named to the NFL's all-rookie team after he had 58 catches for 917 yards and eight touchdowns (one on a kickoff return) this season.