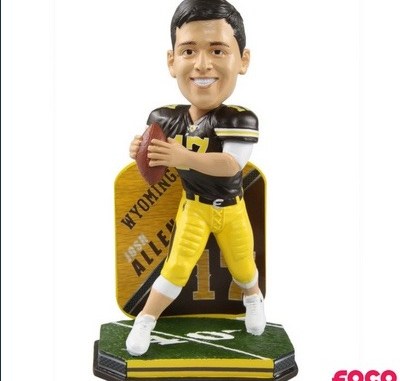 Wyoming Cowboy fans have the opportunity to purchase a Josh Allen Bobblehead that features him in his Wyoming Jersey.
The company making the bobblehead is the same company that made the Pistol Pete Bobblehead a year ago that commemorated the 1943 National Championship Basketball team. Like last year's Pistol Pete Bobblehead, the Josh Allen Bobblehead was produced to a limited quantity meaning only a set number of bobble heads will be produced.
To buy this bobblehead locally one would have to head down to the Brown and Gold Outlet but just over half of the bobbleheads have already been purchased according to the Brown and Gold Outlet.
Allen became the one of the most followed Wyoming athletes in the history of UW athletics. The only player that received similar coverage during their career at UW was Fennis Dembo, who was featured on the cover of Sports Illustrated in 1987.
Allen got his first start in the 2015 season but during the second offensive drive of the game he would run down the field picking up first down and a broken collarbone. Allen would have to watch from the sidelines as Wyoming would post a 2-10 record that year. Allen won the starting job for 2016 and lead Wyoming to an 8 wins season.
On their way to the 8 wins Wyoming would knock off Boise State and San Diego State in Laramie, both teams were ranked in the top 25 nationally when they would lose to Wyoming. While teams were eyeing Wyoming's all-time leading rusher Brian Hill, NFL teams started to eye the Josh Allen and his strong arm.