Isiah Whitlock, Jr. 20th Anniversary "Sheeeeeeeee-it" Talking Bobblehead Unveiled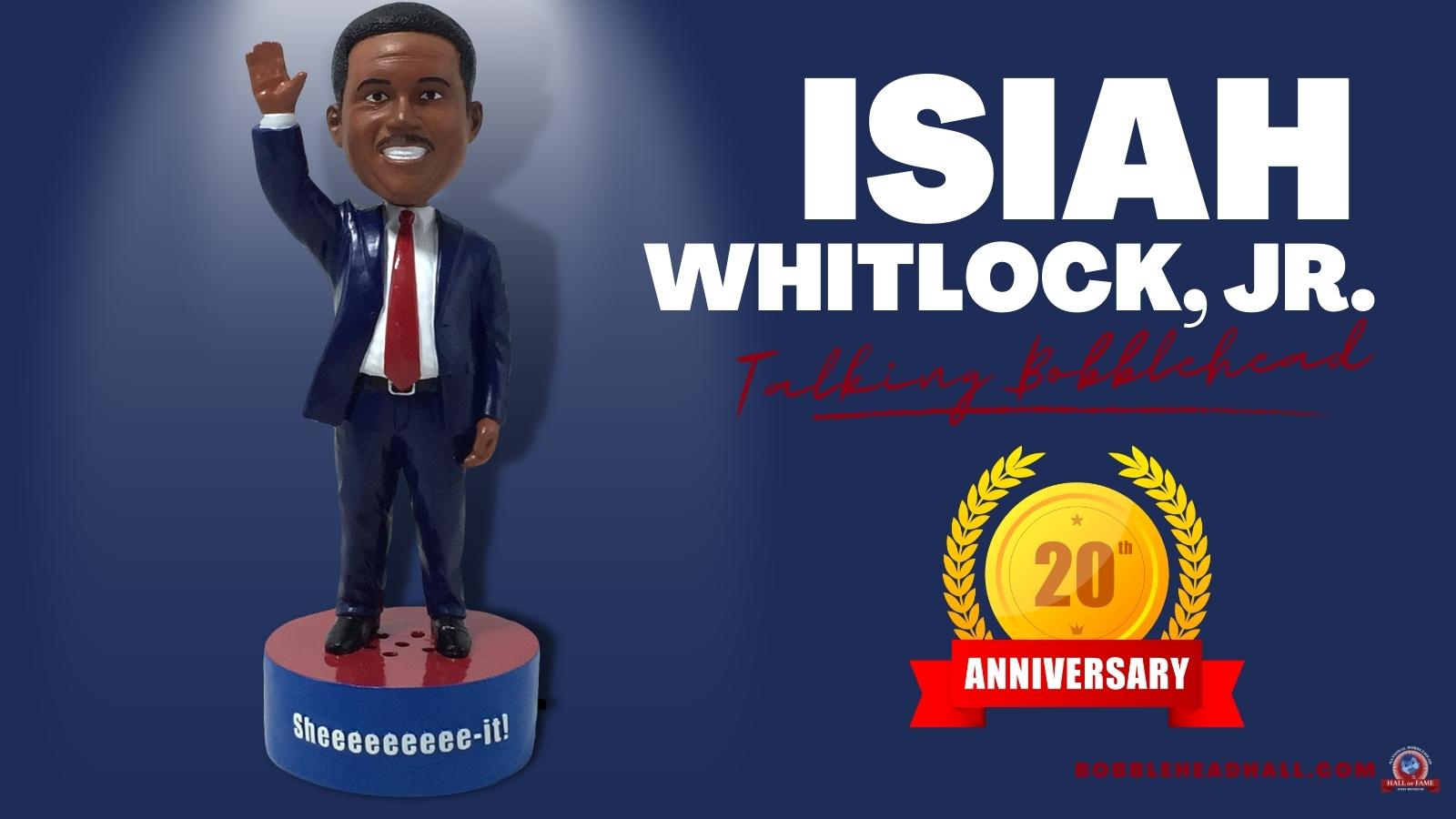 MILWAUKEE – This morning, the National Bobblehead Hall of Fame and Museum unveiled a special 20th Anniversary Edition Isiah Whitlock, Jr. Talking Bobblehead. The bobblehead features the actor, who is celebrating the 20th year of his signature catchphrase "Sheeeeeeeee-it" in 2022. The new bobblehead is being produced by the National Bobblehead Hall of Fame and Museum in partnership with Whitlock and The Levity Department (TLD Media, LLC).
Wearing a blue suit with a red tie and his right arm extended in a wave, the smiling Whitlock bobblehead plays four different recordings at the touch of a button: "Sheeeeeeeee-it," "HmHmHm, you don't know sheeeeeeeee-it", "Mmhmm, sheeeeeeeee-it", and "Sheeeeeeeee-it, That's What I'm talkin bout." The bobblehead is standing on a circular red and blue base that reads "Sheeeeeeeee-it!" Each bobblehead is individually numbered to only 2,022 and they are only available through the National Bobblehead Hall of Fame and Museum's Online Store. The bobbleheads, which are expected to ship in early December, are $40 each plus a flat-rate shipping charge of $8 per order.
When the actor turned to Kickstarter in 2015 to launch the Isiah Whitlock, Jr. Talking Bobblehead, he had no idea quite what to expect. "We took a look at what other people had done to launch bobbleheads on Kickstarter," he said. "The most anybody had raised at that time was about $10,000." Whitlock's Kickstarter closed out with more than 1,800 backers and a crowdfunding haul in excess of $100,000. Along the way, the bobblehead became a global phenomenon, generating media coverage and social media buzz around the world. On top of that, the one-and-only prototype in existence — the one created for the Kickstarter campaign — was personally delivered to "The-Wire-Fan-in-Chief," President Barack Obama by David Simon, the creator of the HBO show. "We didn't see that coming," laughed Whitlock, who received an unexpected call in New Zealand, where he was shooting Disney's live action remake of Pete's Dragon, even as the Kickstarter campaign was underway. "David Simon called me and said he needed a bobblehead," Whitlock recounted. "I told him it wasn't possible. We only had one and we needed it for marketing. But when he told me who it was for, I made an exception."
The most successful bobblehead in Kickstarter history has shown no signs of slowing down with the release of a fourth edition after the first three editions sold out. Whitlock's signature catchphrase, which was made famous by the character of State Senator Clay Davis in "The Wire," first appeared in the Spike Lee-directed "25th Hour" in 2002. Now celebrating its 20th year, the catchphrase has since appeared in multiple Spike Lee movies, most recently in 2020's "Da 5 Bloods." It also featured prominently in the YouTube series "The Whitlock Academy." The enduring popularity of the catchphrase made Whitlock a required presence in the 2021 Netflix series "History of Swear Words," hosted by Nicolas Cage.
"We are thrilled to be releasing this new talking bobblehead of Isiah Whitlock, Jr. so fans who missed out on the previous editions or fans who want to add to their collection have the opportunity," National Bobblehead Hall of Fame and Museum co-founder and CEO Phil Sklar said. "We think this limited edition bobblehead is the perfect way to celebrate the 20th anniversary of Isiah's catch phrase.'"
About the National Bobblehead Hall of Fame and Museum:
The National Bobblehead Hall of Fame and Museum, which is located at 170 S. 1st St. in Milwaukee, Wisconsin, opened to the public on February 1st, 2019. The HOF and Museum also produces high quality, customized bobbleheads for retail sale as well as organizations, individuals, and teams across the country. Visit us online and on Facebook, Twitter and Instagram.