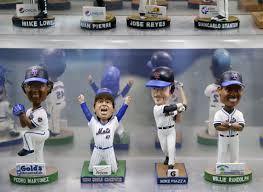 With the regular season right around the corner, it's definitely time to start planning out your baseball game schedule for the spring and summer. And while you could use normal things like work conflicts, family commitments and holidays to help you decide which games to attend, there's a much better idea: use the team's promotional schedule so you can snag the best giveaways!
[Sign up for Yahoo Fantasy Baseball: Get in the game and join a league today]
Every team gives out souvenirs during the season, but not all giveaways are created equal. Some teams go beyond the standard schedule magnet or tote bag. And some go way, way beyond. Here's our guide to the 10 best giveaways of the 2017 season, sorted by date for your scheduling pleasure.
April 8 – Pittsburgh Pirates – Francisco Cervelli singing bobblehead
There is nothing not to love about this insanely awesome bobblehead. It's got Francisco Cervelli, but he's not in his uniform. He's in a Pirates smoking jacket, just like he was in this video where he gave out some incredibly useful romance tips. And the figurine doesn't just bobble; it also sings "That's Amore" by Dean Martin, which is Cervelli's walk-up song.
April 16 – Toronto Blue Jays – Bringer of Rain umbrella
If Josh Donaldson is the bringer of rain (as his Twitter handle suggests), the Jays want their fans to be prepared. This umbrella is blue (of course), and the inside features a series of images of Donaldson in his batting stance, going through the process of hitting a home run. Because why should passers-by be the only people who get to experience a great design on an umbrella? This way, when you're walking through the rain, you can see Josh Donaldson doing what he does best: hitting baseballs.
April 19 – Seattle Mariners – Ichiro Suzuki dual bobblehead
When the Miami Marlins come to Seattle in April, the Mariners will be ready. They'll be celebrating Ichiro, one of their franchise's best-loved players, with a bobblehead commemorating two of his greatest baseball accomplishments. One side of the bobble has Ichiro in his Mariners uniform from 2004 to celebrate his 262-hit season, and the other side has Ichiro in his Marlins uniform from 2016 to celebrate his 3,000th career hit. Because what's better than one Ichiro? Two Ichiros!