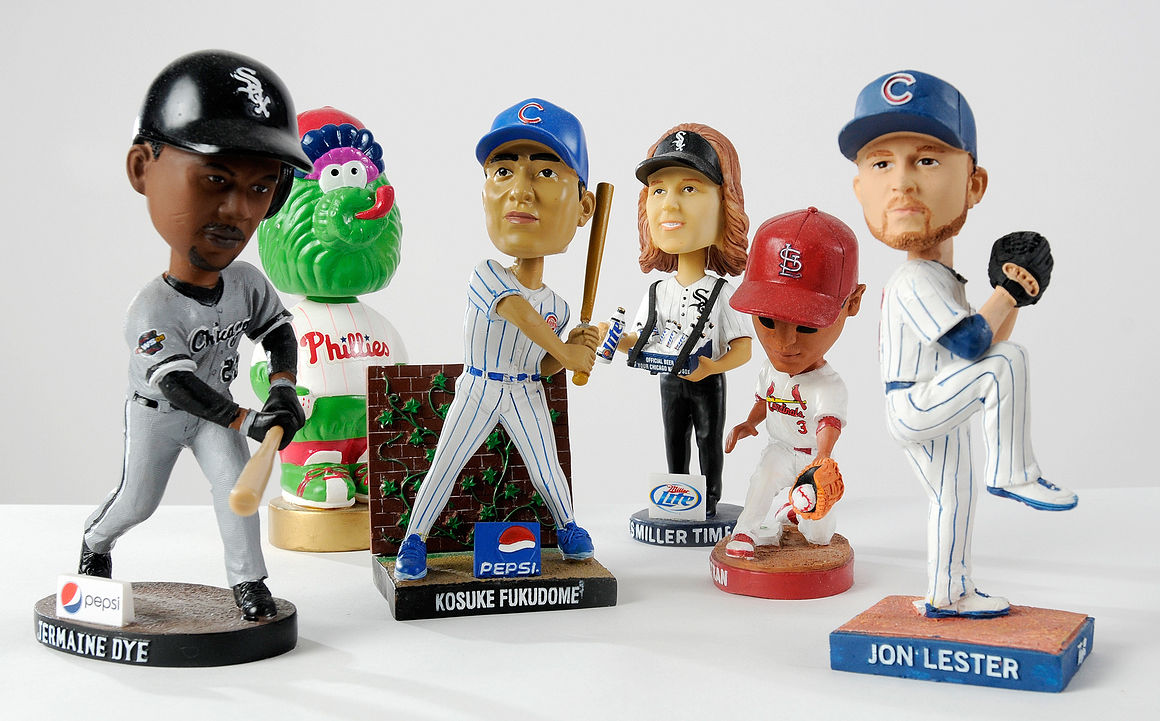 Packed tight near Gate D, fans were dripping sweat backed up to the corner of Addison Street and Sheffield Avenue. The outdoor vendors serving ice cold water were everyone's best friend.
Why was that Monday different than most days at the Friendly Confines? Despite the Cubs maybe-this-is-actually-the-year season, the early bird crowd likely had nothing to do with the players on the field.
Nope. This night was Kris Bryant Rookie of the Year bobblehead day, the third bobblehead giveaway of the season at Wrigley.
And inside a sport already known for geeky wonks, collecting bobbleheads — it should come as no surprise — is a pretty popular subgenre of sport.
Earlier this season, the lines were equally as long for an Anthony Rizzo "tarp catch" bobblehead. It's a recreation from a catch Rizzo made last year standing on a rolled up tarp before jumping into the stands.
Shortly after Rizzo's bobblehead day, pitcher Jake Arrieta was immortalized with his own bobblehead. Up next?
Joe Maddon's "Manager of the Year" bobblehead. You get the idea.
Bobblehead collecting has grown exponentially since the evolution of Facebook. Groups such as "Bobblehead Addicts" have thousands of members creating a marketplace to buy, sell and trade.
Pedro Avalos, an avid Dodgers fan living in Akron, Ohio, started The "Bobblehead Addicts" group on Facebook in an effort to continue collecting his home team's bobbleheads.
Today, it has more than 4,800 members on three continents.
"Moving to Akron is what motivated me to do it," Avalos said. "I needed a way to collect my Dodger bobbleheads. I was part of a Dodger bobblehead group and they wouldn't allow anything other than Dodger bobbleheads. So, I just made my own group all about bobbleheads."
Phillip Sklar and Brad Novak, originally from Rockford, are taking bobblehead collecting to the next level.
Their mammoth display of 2,000 bobbleheads was free to the public and ran from January to April in Milwaukee. They hope to open a National Bobblehead Museum and Hall of Fame in a permanent downtown location by the end of the year.
With the word spreading, the public has been eager to help the cause.
"Over the past two years, since we announced the concepts, most of the ones added have been donated by teams or individuals. We're now approaching 6,000 unique bobbleheads," Sklar said. "We even had a family whose dad collected donate around 700 unique bobbleheads because they wanted to see it go to the Bobblehead Hall of Fame."
What do bobbleheads cost?
As with anything else, the market sets the price and any number of factors are considered. The rarity of the item, meaning how many the team gave away, who the featured player is, and to a slightly lesser extent, the aesthetics of the item.
"It's all supply and demand. It boils down to general economics," Sklar said. "You look at any bobblehead that is given away. Take the Ichiro 'hit counter' for example. If you can't be in Miami, you basically have to go online if you want it. People in Seattle, Japan and other places all want it and now they're selling for $200 to $300."
Bobblehead themes
Options are endless for bobblehead collectors. Hundreds of new bobbleheads are given away each year with a potpourri of different themes.
Today's most popular themes range from television and movies (think "Star Wars," "Major League," "Ghostbusters" or "Seinfeld") to baseball-related ones including Hall of Fame players, Gold Glove winners, Cy Young winners, managers and team mascots.
"The gimmicks. The marketing. These 'Major League' bobbleheads, 'Star Wars' bobbleheads," Avalos said. "The route they're taking has made it grow. They went from making a few 'Star Wars' bobbleheads to over 20 this year."
At the end of the month, the White Sox will give away a "Star Wars" version of its mascot: Jedi Southpaw. The Houston Astros gave away a trio bobblehead with three of its stars (Jose Altuve, Carlos Correa and Dallas Keuchel) as members of the Jedi Council.