First Cameron Krutwig Loyola Ramblers Bobblehead Unveiled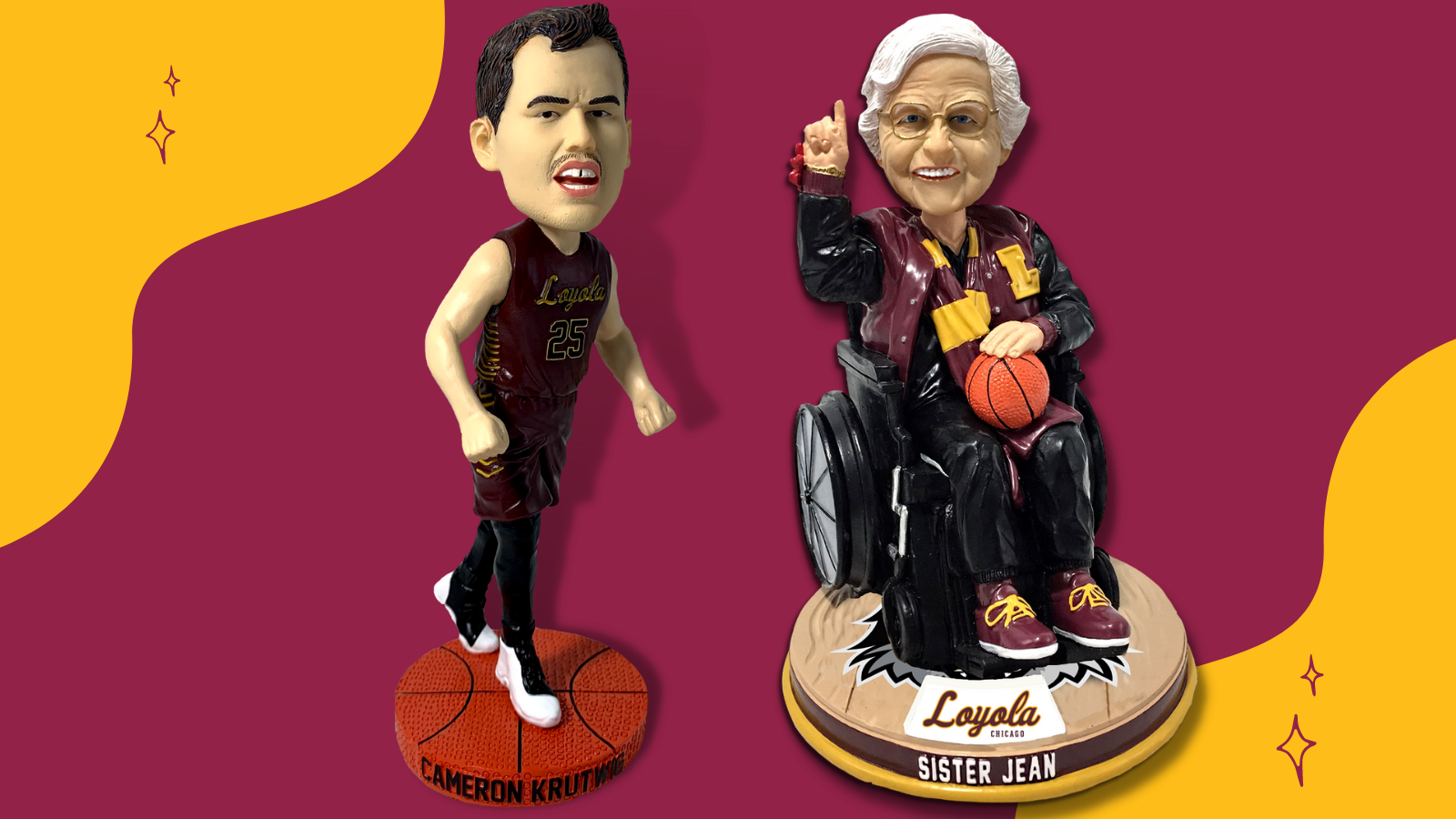 MILWAUKEE – This morning, the National Bobblehead Hall of Fame and Museum unveiled an officially licensed, limited-edition bobblehead of former Loyola University Chicago basketball star Cameron Krutwig. This marks the first bobblehead of Krutwig and is being produced in conjunction with Cameron and Loyola University Chicago. The new bobblehead adds to the museum's growing lineup of Loyola Chicago bobbleheads that started with Sister Jean, and Sister Jean's bobblehead is back in stock just in time for March Madness.
With his fists clenched and reacting after scoring a big basket, the Krutwig bobblehead is wearing a maroon Loyola uniform with gold trim. Wearing No. 25, he is standing on a basketball-shaped base bearing his name. Each bobblehead is individually numbered to 2,021 and they are only available through the National Bobblehead Hall of Fame and Museum's Online Store. The bobbleheads, which are expected to ship in June, are $30 each plus a flat-rate shipping charge of $8 per order.
A native of Algonquin, Illinois, Krutwig was a fan favorite wearing the maroon and gold of Loyola. In four seasons with the Ramblers, the 6-foot-9 center started in 130 of 134 games and averaged 13.7 points, 7.1 rebounds and 2.8 assists while shooting 59 percent from the floor. He finished his collegiate career with 1,833 points and 946 rebounds, which ranks fifth and seventh on Loyola's all-time list. In a game against Indiana State on January 11th, 2021, Krutwig became just the fourth player in Missouri Valley Conference history to amass 1,500 points, 800 rebounds and 300 assists. The other three players to accomplish the feat are College Basketball Hall of Famers Oscar Robertson, Larry Bird and Hersey Hawkins.
Krutwig committed to Loyola as a junior at Jacobs High School, spurning more than a dozen scholarship offers. As a freshman, he became a starter three games into the 2017-18 season and helped the 11th-seeded Ramblers reach the Final Four for the first time since 1963. Krutwig scored a team-high 17 points in a 69-57 semifinal loss to Michigan. A three-time first-team ALL-MVC performer, Krutwig was named the MVC Player of the Year and a third-team All-American as a senior. Krutwig was instrumental in Loyola's Sweet 16 run last season, when eight-seeded Loyola upset top-seeded Illinois to reach the Sweet 16. Following the season, Krutwig signed with the Telenet Giants Antwerp, a professional team in Belgium.
"We are excited to release this bobblehead featuring Cameron Krutwig," National Bobblehead Hall of Fame and Museum co-founder and CEO Phil Sklar said. "In his four seasons with Loyola, Cameron was one of the most productive players in Missouri Valley Conference history and universally loved by the Loyola faithful. We think Ramblers fans will love this new bobblehead and enjoy adding it next to Sister Jean in their growing bobblehead collection."
After Loyola punched their ticket to the NCAA Tournament in March 2021, the National Bobblehead Hall of Fame and Museum unveiled the third Sister Jean bobblehead. The museum previously released the second bobblehead featuring Sister Jean, the 102-year-old chaplain for Loyola's Men's Basketball team, and that bobblehead sold out when Loyola won the 2021 MVC Conference Tournament. In 2018, Sister Jean was thrust into the national spotlight when the Ramblers advanced to the Final Four of the NCAA Tournament. The 2018 bobblehead was the National Bobblehead Hall of Fame and Museum's best-selling bobblehead until it was surpassed in April 2020 by a bobblehead of Dr. Anthony Fauci.
About the National Bobblehead Hall of Fame and Museum:
The National Bobblehead Hall of Fame and Museum, which is located at 170 S. 1st St. in Milwaukee, Wisconsin, opened to the public on February 1st, 2019. The HOF and Museum also produces high quality, customized bobbleheads for retail sale as well as organizations, individuals, and teams across the country. Visit us online and on Facebook, Twitter and Instagram.