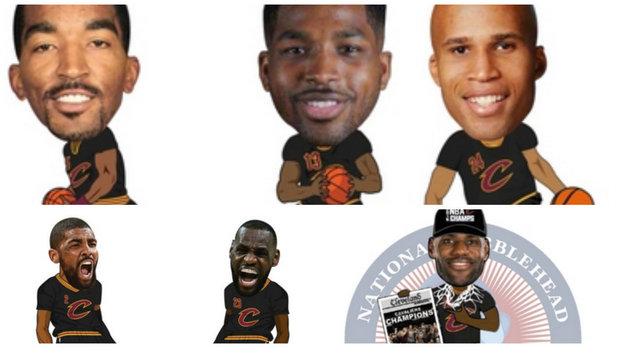 Additional Cavaliers bobbleheads issued for championship run By Marc Bona
Additional bobbleheads:
* Sir CC and Moondog wearing championship shirts. Officials at the hall say this is the only Championship Sir CC bobblehead, which fans requested. Each one will be numbered to only 216 ($40 each, $75 for the set).
* Second mini set of three (J.R. Smith, Richard Jefferson, Tristan Thompson). This complements the first mini set of three (LeBron James, Kyrie Irving, Kevin Love). The second set is $50; the first was $65.
* James holding a championship newspaper with the net around his neck ($40).
* James and Irving on newspaper bases commemorating the only time in NBA Finals history that teammates scored 40 points each in a game ($40 each, $75 for the set).
James and Irving each scored 41 as Cleveland beat Golden State 112-97 in Game 5 in Oakland.
Presale for the original set was announced by the Milwaukee-based museum as soon as the finals ended in June.