First Katie Porter U.S. Congresswoman Bobblehead Unveiled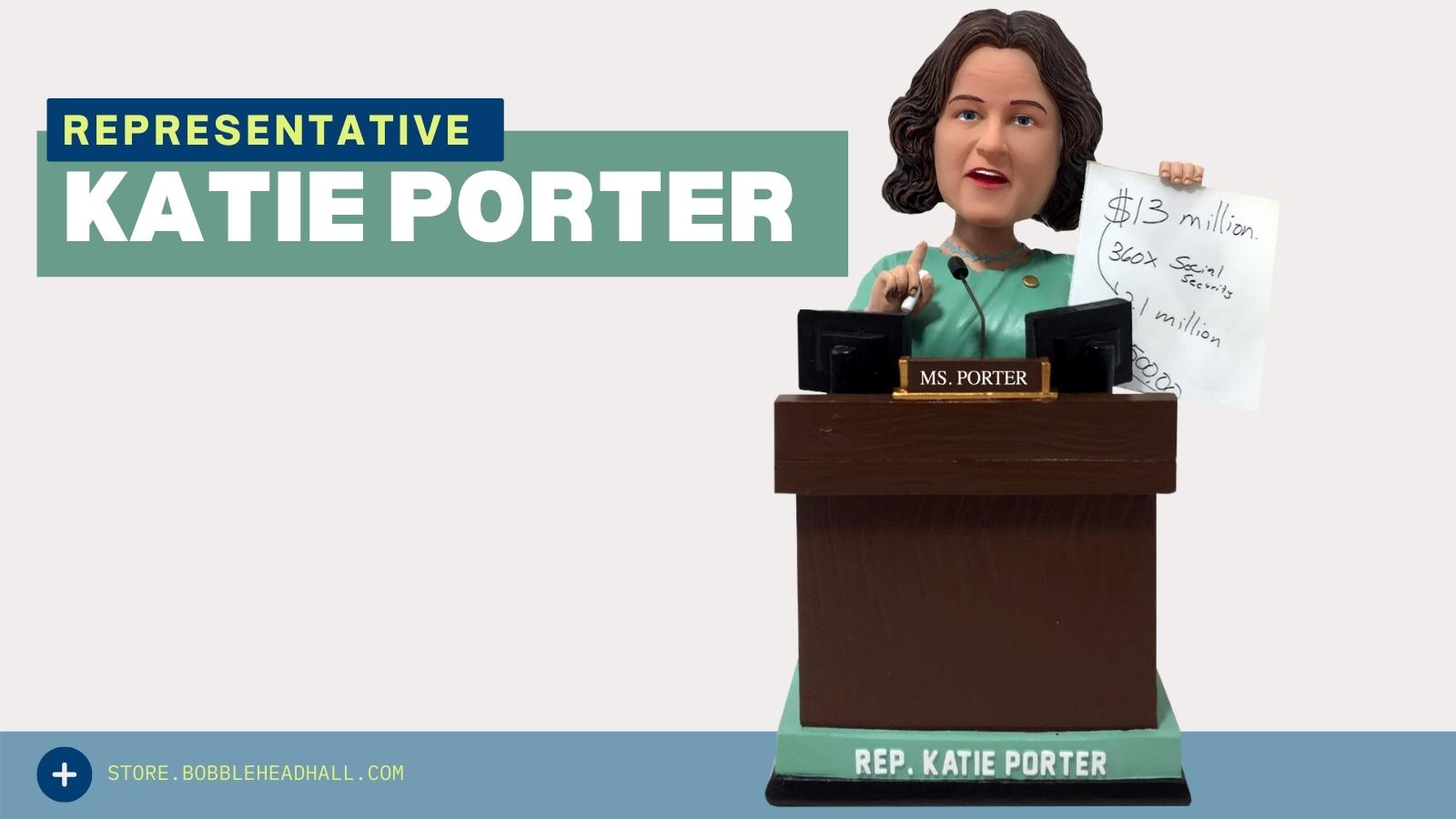 MILWAUKEE – This morning, the National Bobblehead Hall of Fame and Museum unveiled the first bobblehead of U.S. Congresswoman Katie Porter, a Democratic representative from California's 45th congressional district since 2019. The bobblehead is being released in conjunction with National Bobblehead Day, which is celebrated annually on January 7th.
Wearing a lime green top and matching necklace, the seated Representative Porter bobblehead is making a point while holding her "mighty whiteboard of truth," which she has used while effectively questioning officials during congressional hearings. The base bearing her name (REP. KATIE PORTER) also features a nameplate (Ms. Porter) positioned between two monitors. Each bobblehead is individually numbered and they are only available through the National Bobblehead Hall of Fame and Museum's Online Store. The bobbleheads, which just arrived and ship now, are $30 each plus a flat-rate shipping charge of $8 per order.
A law professor-turned congresswoman, bankruptcy expert and single mother of three children, Porter was the surprise national standout of California's 2018 House freshman class and is considered a strong contender for the U.S. Senate someday. The native of Fort Dodge, Iowa, graduated from Yale University with a degree in American studies and later attended Harvard Law School where she studied under bankruptcy law professor and future U.S. Senator Elizabeth Warren. Porter graduated magna cum laude with her Juris Doctor in 2001. Porter's daughter, Betsy, is named after Warren.
Prior to being elected in 2018, Porter was a consumer protection advocate and a professor at UC Irvine. Much of her work centered around the housing crisis that rocked Orange County and other parts of the country. Before the crisis, she was one of the first to sound the alarm about how the biggest Wall Street banks were preying on homeowners. When the crisis hit, she was appointed by then-Attorney General Kamala Harris to work directly with California families who were cheated by the five biggest Wall Street banks.
Porter became the first Democrat to be elected to represent the district, covering much of south-central Orange County, including Irvine, Tustin and Lake Forest along with large portions of Anaheim and, Laguna Niguel. In 2020, she became the first non-Hispanic Democrat in 38 years to win a second term in an Orange County-based district. In much of the district, she is the only elected Democrat above the municipal level. Porter is currently running for re-election, this time in California's 47th district.
"We are excited to release this bobblehead of U.S. Congresswoman Katie Porter," National Bobblehead Hall of Fame and Museum co-founder and CEO Phil Sklar said. "After going viral on social media thanks to her signature whiteboard, Rep. Porter has become well known and we have received a lot of requests for a Katie Porter Bobblehead."
About the National Bobblehead Hall of Fame and Museum:
The National Bobblehead Hall of Fame and Museum, which is located at 170 S. 1st St. in Milwaukee, Wisconsin, opened to the public on February 1st, 2019. The HOF and Museum also produces high quality, customized bobbleheads for retail sale as well as organizations, individuals, and teams across the country. Visit us online and on Facebook, Twitter and Instagram.