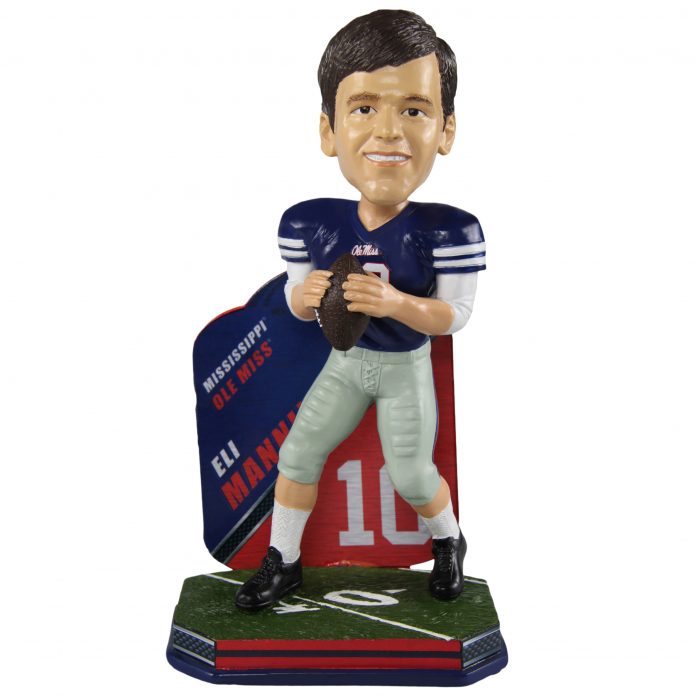 Eli Manning got a double dose of good news this week: He will likely get his old job back as the New York Giants' starting quarterback, and he now has his own bobblehead.
Just in time for Christmas, the National Bobblehead Hall of Fame and Museum (surely you've been there?) says it has unveiled a limited-edition bobblehead featuring the Ole Miss football legend.
As far as we can tell, Manning is the only Ole Miss graduate to get bobbleheaded, which is undoubtedly a grievous affront to William Faulkner, Shepard Smith and Archie himself. Not to mention a certain alumna who starred on "Charlie's Angels" and "Scarecrow and Mrs. King."
Oh, and what about Dr. Garth Fisher, described on his website as "a luxury cosmetic surgeon with unparalleled taste" and the Kardashians' go-to specialist for various "enhancements"? How does Garth Fisher not get his own bobblehead?
But you know who else did get a bobblehead? Dak Prescott, that's who.
Whatever. We're not even gonna show you a picture of it. Pffttt.
Priced at $40, the Eli bobblehead features the two-time Super Bowl MVP in his Ole Miss uniform, making it a must-have Christmas gift for the true Rebel fan.
But can we just go ahead and say it? We know you're thinking it, too: This bobblehead LOOKS NOTHING LIKE ELI MANNING!
Oh, well, it will sell like hotcakes anyway. But if you ever wanted to create a real collector's item, think about an Ed Orgeron bobblehead – one that talks.