Dwyane Wade Special Edition Retirement Bobblehead Unveiled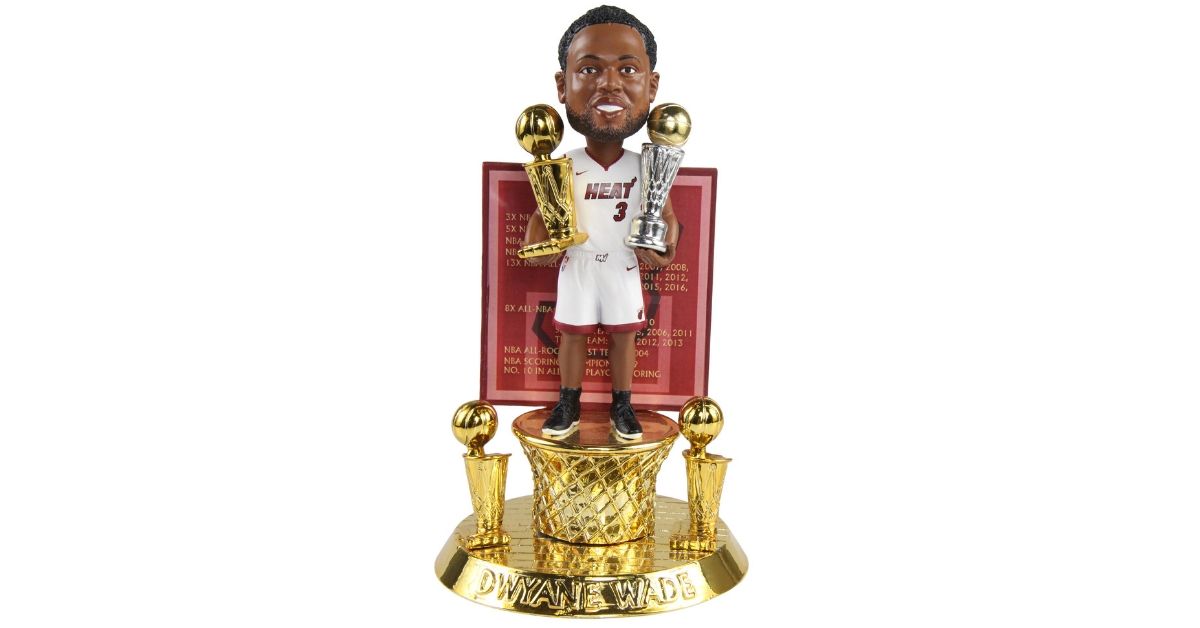 Limited Edition bobblehead commemorating Dwyane Wade's legendary NBA career is now available exclusively from the National Bobblehead HOF and Museum.
MILWAUKEE, Wi., August 9, 2019 – This morning, the National Bobblehead Hall of Fame and Museum unveiled an officially licensed, limited-edition bobblehead commemorating Dwyane Wade's remarkable career. The bobblehead features Wade standing on a gold basketball net and base holding an NBA Championship and Finals Trophy. Two additional NBA Championship trophies are on the base of the bobblehead, which includes a plaque listing Wade's career stats and accomplishments.

The limited edition bobbleheads, which are individually numbered to only 2,019 to coincide with Wade's final season, just arrived and are available beginning today in the Hall of Fame and Museum's Online Store and at the Museum, which is located in Milwaukee. The bobbleheads are $50 each with a flat rate shipping charge of $8 per order and were produced exclusively for the National Bobblehead Hall of Fame and Museum by FOCO.

During his 16-year career in the NBA, Dwyane Wade helped the Miami Heat earn NBA Championships in 2006, 2012 and 2013. He was also the NBA Finals MVP (2006), NBA scoring champion (2009), NBA All-Star Game MVP (2010), 13x NBA All-Star (2005-2016, 2019), 8x All-NBA, 3x All-Defense, NBA All-Rookie First Team and NBA Skills Challenge champion. Wade also won two Olympic medals and a FIBA World Championship medal.
"Dwyane Wade has made a tremendous impact on Miami both on and off the court and we knew his amazing career needed to be commemorated in a special bobblehead," said Phil Sklar, Co-Founder and CEO of the National Bobblehead Hall of Fame and Museum. "We think this bobblehead is the perfect way for fans to celebrate Dwyane's special career."

Wade was selected by the Miami Heat with the 5th overall pick in the 2003 NBA Draft and spent all but two seasons with the Heat. He was born in Chicago, Illinois, and attended Richards High School in Oak Lawn. Wade chose to play college basketball at Marquette University in Milwaukee, where he led the Golden Eagles to the Final Four in 2003 while averaging 21.5 points per game. His performance over two years at Marquette led to his #3 jersey being retired by the school.

About the National Bobblehead Hall of Fame and Museum:
The National Bobblehead Hall of Fame and Museum, which is located at 170 S. 1st. St. in Milwaukee, Wisconsin, opened to the public on February 1st, 2019. The HOF and Museum also produces high quality, customized bobbleheads for retail establishments, organizations, individuals and teams across the country. Visit us at www.BobbleheadHall.com, www.facebook.com/BobbleheadHall or www.twitter.com/BobbleheadHall.

About FOCO:
FOCO is a leading manufacturer of sports and entertainment merchandise celebrating more than 17 years in the industry. The company's always-growing product lines includes apparel, accessories, toys, collectibles, novelty items, and more. FOCO is licensed with all major sports leagues including the NFL, MLB, NBA, NHL, NASCAR, MLS and over 100 colleges and universities as well as entertainment properties such as Disney, Warner Bros/DC Comics, Nickelodeon, and WWE. Please reach out to Matthew Katz, Licensing Manager, P 848-260-4315 – mkatz@foco.com for more information. Follow @FOCOusa on Facebook, Twitter, and Instagram for more exciting news and new product releases.