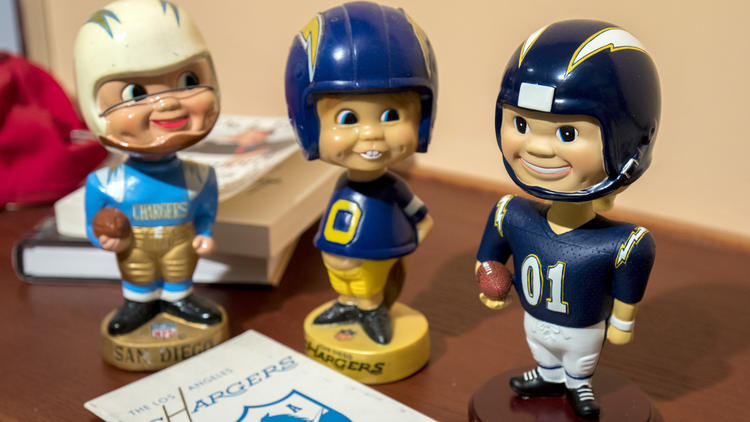 Collector covets his Chargers memorabilia By Tod Leonard
In his
Poway
home that he's basically turned into a wondrous museum of memorabilia, Jeff Figler has a Honus Wagner baseball card worth more than $1 million. He owns game-worn jerseys from numerous sports legends. He has a hat of Frank Sinatra's and letters written by U.S. presidents.
Not just some of the presidents. All of them, from George Washington on.
His most ironic possession?
That's easy. It would the 1960 media guide for the
Chargers
. The Los Angeles Chargers.
Ouch.
"That's an interesting one," Figler said. "It's got the bios for Barron Hilton (the Chargers owner who moved the team to San Diego in 1961), and Sid Gillman (the team's renowned head coach)."
Figler, one of the country's most prolific memorabilia collectors, is feeling the pain like so many other San Diegans because of the Chargers' move to Los Angeles. A native of St. Louis, he's lived in San Diego for about 40 years and was a season ticket holder from 1973 until before last year. His son, Nathan, once worked for the Chargers.
Figler can vividly recount some of the franchise's greatest moments, and some of its worst.
"I still have a house in St. Louis, and so this is two years in a row that Stan Kroenke has affected my life," Figler said of the former St. Louis Rams owner who moved his team to Los Angeles in 2016 and will share an Inglewood stadium with the Chargers.
More than most fans, Figler's memories live on in displays that are accessed not just by the mind, but by touch.
Figler figures he owns more than 80 Chargers collectables, and there are some real gems.
He has a signed, game-worn helmet from Chargers Hall of Fame lineman Ron Mix. The scars of battle are visible on the classic white helmet with the gold lightning bolts.
There is a photograph signed by Kellen Winslow of the tight end being helped off the field after the epic playoff victory over Miami in 1981.
There is the program from the 1963 AFC championship game at Balboa Stadium – the last league title won by the Chargers, when they routed the Boston Patriots 51-10. Cover price: 50 cents.
There is a football signed by LaDainian Tomlinson.
There are bobblehead dolls from numerous eras, including a little lad wearing a powder blue jersey from the '60s.
Figler considers his most prized Chargers possession the game-worn and signed jersey by Hall of Famer Dan Fouts, from the mid-1980s. Fouts was his favorite player and he met the quarterback on one occasion.
"I tried really hard to get that one, and I'm lucky I did," said Figler, who bought the jersey from an East Coast collectable company. "There aren't that many game-used Fouts jerseys around."
Figler puts the Fouts jersey's market value at $8,000 to $10,000. His second-most valuable Chargers piece, at around $8,000, is the signed game-worn, rookie-year jersey of current Chargers quarterback Philip Rivers. "Game-worn" is used loosely in this case because Rivers did little more than carry around a clipboard in 2004 as Drew Brees' backup.
One Chargers quarterback doesn't get much love in the memorabilia market. Stan Humphries is the only QB to take San Diego to the Super Bowl, and Figler has one of his game-worn jerseys with the NFL's 75th anniversary patch. Estimated value: $100.
Poor Stan.
"He didn't have longevity," Figler said. "He doesn't hold any records. To a die-hard Chargers fans, it might be worth $300."
So if you dumped a Humphries jersey in front of the team's headquarters in protest, it didn't cost you much. Fouts? That was probably a big mistake, though it didn't seem like there weren't many No. 14s going up in flames in bonfires.
With the Chargers moving, people have wondered if the value of the team's memorabilia would be drastically affected.
"High-end items appreciate at a greater rate than with common items," Figler said, "and so the high-end items that do say San Diego on them compared to Los Angeles, they might be worth a lot more as time goes on."
As for bobbleheads, programs and the like, Figer suggested, "They'd be nice souvenirs to pass onto your grandchildren and great grandchildren to remember the days gone by."
Figler can be trusted to have accurate values on items. He is one of only four people in the United States who is a professionally licensed sports memorabilia appraiser. He said he has certified all 5,147 items owned by the San Diego Hall of Champions, and performed the same task for the Texas Sports Hall of Fame.
He has authored several books on collecting, appears as a guest speaker for corporate outings, and operates a website (collectingwithjeff.com).
Figler, who once was a radio personality at KMOX in St. Louis, said he got interested in collecting as a child because his mother saved all of his baseball cards and comic books.
"My mother is 98 years old and she says she knew exactly what she was doing when she saved those cards," Figler said with a laugh. "I don't think that's true."
Figler owns every set of baseball cards that Topps ever made. Easily the most valuable of all his possessions is the 1909-11 card of the Pittsburgh Pirates' Honus Wagner. The card was designed and distributed by the American Tobacco Company, but, according to lore, Wagner demanded that they stop being produced, either because he didn't want children to be enticed by cigarettes, or he wanted more compensation.
Between 50 and 200 cards were distributed and only a few dozen are believed to still exist. In October, a record was set for the highest price paid for a Wagner card — $3.12 million. That broke the previous record of $2.8 million paid by Arizona Diamondbacks owner Ken Kendricks for the "Gretzky Wagner" card, once owned by Wayne Gretzky.
Figler said his Wagner card is in the "middle of the group" in terms of worth, but that still makes him a millionaire with just one piece of cardboard.
"As the owner of a Wagner card, you just hope that somebody doesn't discover a box of them in a basement someday," Figler said.
The market for collectables is extremely volatile and sometimes based more on the intrinsic value to someone than any sense of real worth.
"It's how much somebody is willing to pay for them when they go on auction," Figler said.
He cited the example of Action Comics No. 1, which features the first appearance of Superman in 1938. Figler owns a copy. He said a few years ago he estimated the value at $500,000. Then in 2014, a pristine copy of No. 1 sold on eBay for $3.2 million.
Obviously, Figler could put his entire collection up for sale and be richer than he ever imagined. But he has no plans to do that.
"I have my one son, Nathan, and he just loves what I have," Figler said. "I'm passing everything on to him."