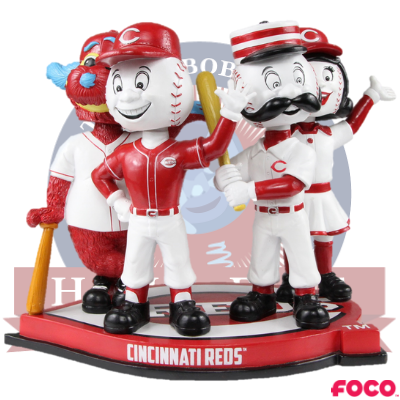 Limited Edition bobblehead featuring all four Cincinnati Reds mascots is now available for pre-order exclusively from the National Bobblehead HOF and Museum.
MILWAUKEE, Wi., February 15, 2019 – This morning, the National Bobblehead Hall of Fame and Museum unveiled a limited-edition quadruple bobblehead featuring all four Cincinnati Reds mascots: Gapper, Mr. Redlegs, Mr. Red and Rosie Red all standing on a Reds logo base. The bobblehead comes at a perfect time, as the Reds celebrate the team's 150th anniversary throughout 2019. The 1869 Red Stockings were the first openly professional all-salaried baseball team in history, which transformed the sport from a social-club pastime to a professional game.
The limited edition bobblehead, which is individually numbered to only 1,000, just arrived and ships now. They were produced exclusively for the National Bobblehead Hall of Fame and Museum by FOCO and are $75 each with a flat rate shipping charge of $8 per order. The bobblehead features Gapper leaning on a bat, Mr. Red and Rosie Red waving, and Mr. Redlegs in a batting position ready to hit a home run.

The Cincinnati Reds are one of the only teams in Major League Baseball with multiple mascots and each one has its own unique traits according to their profiles. Gapper enjoys Reds wins and fishing while hating anything having to do with the St. Louis Cardinals. Mr. Redlegs likes the "Big Red Machine," and mustaches while disliking showering after Gapper. Mr. Red enjoys walk off home runs and a well-worn glove but hates rain delays. Rosie Red went to CHEER (College for High Energy and Entertainment Routines) and enjoys playing catch.
Mr. Red made his first appearance in the March 4, 1953 edition of The Sporting News which announced that Cincinnati was introducing a new team emblem that year. The first live Mr. Red mascot was introduced in 1973 as a result of a suggestion from the wife of team CEO Dick Wagner. Mr. Redlegs was introduced in 2007, while Mr. Red returned to the field in 2012 after a 5-year hiatus. Gapper was introduced as the furry companion to Mr. Red in the winter of 2002 as the Reds were preparing to move to the new Great American Ballpark. The "Rosie Reds" character was unveiled during a pregame ceremony in 1964, but the first costumed Rosie Red mascot wasn't introduced until August 2008 and was made in honor of the Rosie Reds group that supports the team.
"The opportunity to create this unique bobblehead with all four Reds mascots was one we've been thinking of for quite some time," said Phil Sklar, Co-Founder and CEO of the National Bobblehead Hall of Fame and Museum. "The Reds have a great history and extremely passionate fan base that also loves their bobbleheads, and when we saw that the 150th anniversary was this year, we were excited to make the idea a reality."

About the National Bobblehead Hall of Fame and Museum:
The National Bobblehead Hall of Fame and Museum, located in Milwaukee, Wisconsin, opened to the public on February 1st, 2019. The HOF and Museum also produces high quality, customized bobbleheads for organizations, individuals and teams across the country. Visit us at www.BobbleheadHall.com, www.facebook.com/BobbleheadHall or www.twitter.com/BobbleheadHall.

About FOCO:
Previously known as Team Beans, LLC and Forever Collectibles, FOCO is a leading manufacturer of sports and entertainment merchandise celebrating more than 17 years in the industry. The company's ever-growing product lines include apparel, accessories, toys, collectibles, novelties, footwear, holiday and more. FOCO is licensed with all major sports leagues including the NFL, MLB, NBA, NHL, NASCAR, MLS and over 100 colleges and universities as well as entertainment properties such as Disney, Warner Bros/DC Comics, Nickelodeon and Sanrio. Please reach out to Matthew Katz, Licensing Manager, mkatz@foco.com for more information.