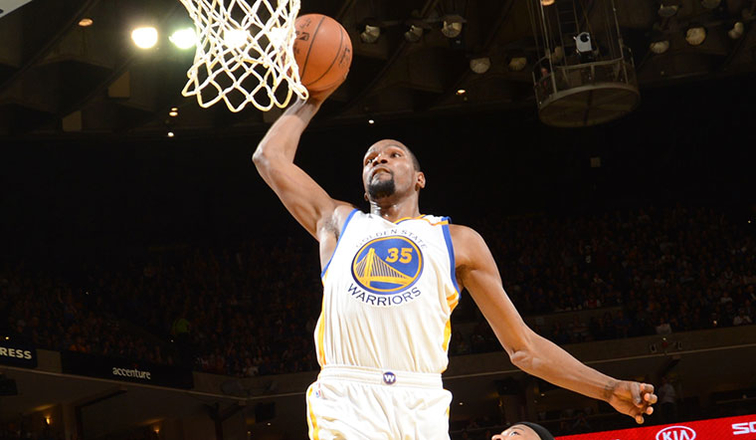 THE 2017-18 NBA REGULAR SEASON STARTS IN ONE WEEK!
Time sure has flown by since the Warriors raised the Larry O'Brien trophy at center court following Game 5 of the 2017 NBA Finals to win their second NBA championship in a three-year span. That championship will be celebrated on Opening Night, when the Warriors host the Houston Rockets in their first game of the new season on October 17th. But before any banners are raised and rings are dispersed, the Warriors must first finish off their preseason slate. Golden State will host the Sacramento Kings in their final game of the preseason this Friday at 7:30 p.m. at Oracle Arena.
In addition to offering fans their final chance to watch the Warriors tune up before the games start to count, Friday's exhibition also falls on Kevin Durant Bobblehead Night and the first 10,000 fans in attendance will receive their very own limited edition bobblehead of the 2017 Finals MVP.
Since the bobblehead features Durant holding both the Larry O'Brien and Bill Russell Finals MVP trophies, we felt it only fitting to revisit Durant's astounding performance in that Finals series. Here are the top five memorable moments from Kevin Durant's 2017 NBA Finals, one for each game there was:
Durant was the Warriors' top scorer in every game of The Finals, averaging 35.2 points, 8.4 rebounds and 5.4 assists, while shooting 60 of 102 (.588) from the field. This might have been the easiest basket he had in the entire series.
This play was a prime example of the two-way dominance Durant displayed throughout the series. In addition to leading the series in scoring, he also led all players with eight blocks.