Carole and Howard Baskin Talking Bobbleheads Unveiled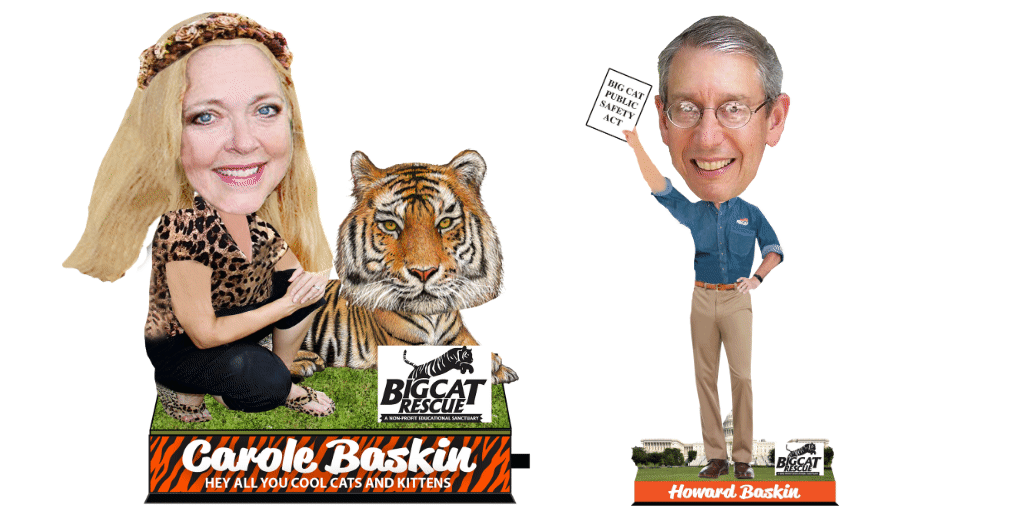 MILWAUKEE – This morning, the National Bobblehead Hall of Fame and Museum unveiled talking bobbleheads of Carole Baskin and Howard Baskin. The bobbleheads are the first of the husband and wife duo who operate Big Cat Rescue, a non-profit animal sanctuary located near Tampa, Florida. Both bobbleheads will each play three sound clips, with Carole's including her famous catchphrase, "Hey, All You Cool Cats and Kittens".
On a grass-covered base that says her name and signature phrase "Hey All You Cool Cats and Kittens," Carole's bobblehead features Carole in a leopard-print top and headband crouching beside a tiger, whose head also bobbles. The Howard Baskin bobblehead features Howard holding a sign of the U.S. bill that says, "Big Cat Public Safety Act" with a replica of the United States Capitol behind him.
Each bobblehead will be individually numbered and they are only available through the National Bobblehead Hall of Fame and Museum's Online Store. The bobbleheads are $25 each plus a flat-rate shipping charge of $8 per order. They are being produced by the National Bobblehead Hall of Fame and Museum.
Carole Baskin is the Founder and CEO of Big Cat Rescue, one of the largest accredited sanctuaries devoted exclusively to big cats. She has gained a large following through social media thanks to her daily videos, some of which promote activism against cub handling and private possession of big cats.
Carole and Howard met at a party for the newly formed No More Homeless Pets organization in November of 2002. Howard, a management consultant, joined Big Cat Rescue soon after as Chairman of the Advisory Board. He proposed to Carole in November of 2003 and they married a year later. Howard is a frequent speaker at the large Taking Action for Animals conference in Washington, D.C.
The Baskins became famous after the airing of "Tiger King" on Netflix. The documentary focused on their long-running efforts to stop exploitation of tiger cubs by Joe Exotic, a former Oklahoma zoo operator who was convicted of 17 federal charges of animal abuse and two counts of murder-for-hire for a plot to kill the Big Cat Rescue CEO and sentenced to 22 years in federal prison.
While the Baskins feel betrayed by the producers of the series in the portrayal of Carole and their four-star rated nonprofit sanctuary, they do see a potential silver lining in the series. They hope the attention focused on the captive tiger community will push forward federal legislation they helped write with a coalition of animal welfare groups. The Big Cat Public Safety Act aims to end some of the mistreatment of captive big cats by banning cub petting and phasing out private ownership. The bill has bipartisan support in both houses of Congress, with 229 co-sponsors (a majority) in the U.S. House and 19 in the U.S. Senate.
"I never dreamed I would become a bobblehead, but I laughed out loud when Phil Sklar from Bobblehead Hall of Fame contacted us and I thought 'sure, let's have some fun with this in the midst of this difficult time'" said Carole. Howard's immediate reaction was "what a totally different way to build awareness of the Big Cat Public Safety Act – let's do it!"
"We're always thinking of ideas for unique and fun new bobbleheads," National Bobblehead Hall of Fame and Museum co-founder and CEO Phil Sklar said. "As soon as we saw Carole and Howard, we knew that talking bobbleheads of the pair would be perfect."
About the National Bobblehead Hall of Fame and Museum:
The National Bobblehead Hall of Fame and Museum, which is located at 170 S. 1st. St. in Milwaukee, Wisconsin, opened to the public on February 1st, 2019. The HOF and Museum also produces high quality, customized bobbleheads for retail sale as well as organizations, individuals and teams across the country. Visit us online and on Facebook, Twitter and Instagram.