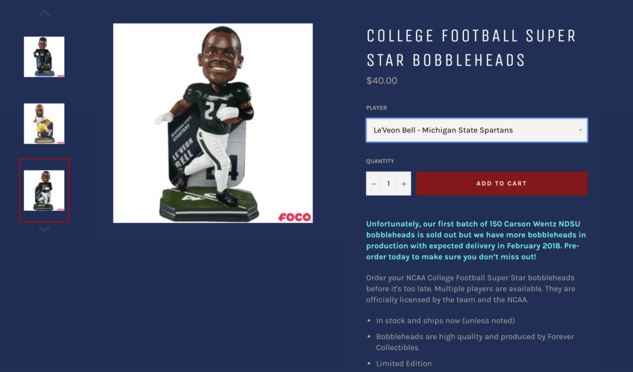 If you're a sports fan, you may also be a collector of sports bobbleheads.
Wednesday, the National Bobblehead Hall of Fame and Museum unveiled a limited edition bobblehead of former Spartan, Le'Veon Bell. This is the first bobblehead featuring the current Pittsburgh Steeler in his MSU jersey.
Bell is an all-pro running back with the Steelers. He was a stand-out at MSU who led the team to a Big Ten Championship when he was on the squad.
The officially licensed bobbleheads are individually numbered to only 2,017 and are $40 each.
The bobbleheads, which are in stock, are only available from the National Bobblehead Hall of Fame and Museum. (link has been provided)
Bell was selected by the Pittsburgh Steelers in the second round of the 2013 NFL Draft with the 48th overall pick. During his career at Michigan State, Bell rushed for 3,346 yards and 33 touchdowns. In addition, he had 78 receptions for 531 yards and a touchdown. These statistics earned him First-Team All-American and Big Ten honors. Prior to his time at Michigan State, Bell played football, basketball, and ran track at Groveport Madison High School in Groveport, Ohio.
Bell currently ranks first in the NFL in rushing yards, and has been a two-time Pro Bowl selection with almost 40 touchdowns since his rookie season in 2013.
"We're excited to release this limited edition bobblehead featuring Le'Veon in his Michigan State jersey," said Phil Sklar, Co-Founder and CEO of the National Bobblehead Hall of Fame and Museum. "He has quickly become one of the best and most popular players in the NFL, and this bobblehead will be a great collectible for all of his fans."
In case you're wondering, there is a Jabrill Peppers bobblehead in his Michigan uniform and an Antonio Brown one representing Central Michigan.