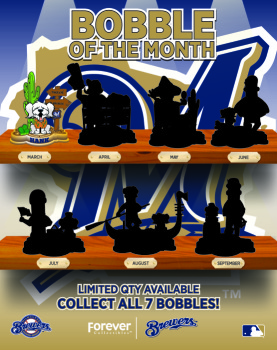 From Cait Covers the Bases by Cait Moyer:
Last season, the Brewers Team Store released limited edition bobbleheads available for fans to purchase.
These bobbleheads were such a hit that they're doing it again. The 2015 Mascot Bobble of the Month Series will feature seven bobbles, with one new bobble being released each month, March – September.
The first Bobble of the Month is a BobbleHank, which will be available beginning March 5 at the Brewers Team Store at Miller Park AND in Maryvale.
Only 250 of these bobbles will be sold, so be sure to act quickly to add this limited edition piece to your collection!