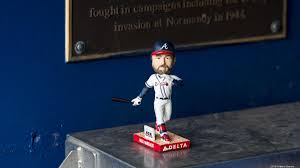 It's not exactly a national holiday – not yet, anyway – but National Bobblehead Day passed by Jan. 7 without much fanfare. At least where I live.
Oh, you didn't celebrate the occasion, either? Somehow slipped your mind? Well, it's been a tradition, thanks to the National Bobblehead Hall of Fame and Museum in Milwaukee, going all the way back to Jan. 7, 2015.
(Check out the website dev.bobbleheadhall.com.)
Bobbleheads are indeed, as the website so happily states, "awesome" (or can be.)  I own a couple of them for their unique combination of art, humor, collectability and portability, and let's just say the price was right. They can capture a moment in our popular culture like few items to be given away to 20,000 people at the turnstiles can.
Fortunately, the Atlanta Braves have not missed the opportunity to honor National Bobblehead Day. They have announced the lineup of bobbleheads to be given away this coming season at the team's new home at SunTrust Park.
All of these promotional dates selected are Fridays. The first 20,000 fans through the gates will be on the receiving end of the following bobblehead giveways (check the game schedule each week) :
May 19: Ender Inciarte "Game Ender Catch" bobblehead, presented by NAPA Auto Parts. Inciarte is frozen in time making the game-ending catch Sept. 21, 2016 against the New York Mets, depriving Yoenis Cespedes a walk-off, three-run homer.
June 9: Bartolo Colon seemingly has been around forever (since 1997, so yeah), and the new Brave cuts a dashing figure on the mound in a bobblehead, presented by Coca-Cola.
June 16: Dansby Swanson, a big sensation as a Braves rookie in 2016, is downsized to bobblehead stature for "The Flow" bobblehead, presented by SunTrust Bank, that features his "life-like locks."
July 14: It's Matt Kemp's turn at the plate for a bobblehead presented by Northside Hospital.
Aug. 25: Fan favorite and career Brave Freddie Freeman — who as a Rome Braves first baseman visited Savannah's Grayson Stadium to face the Sand Gnats of the Class A South Atlantic League, but I digress – will be batting as a bobblehead, presented by Xfinity.