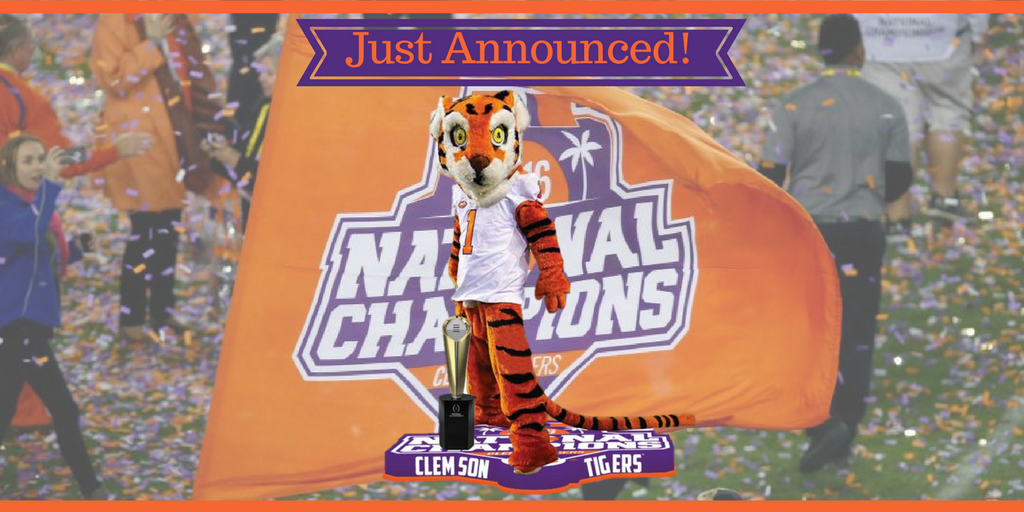 MILWAUKEE, Wi., December 14, 2016 – – Today, the National Bobblehead Hall of Fame and Museum has unveiled a limited edition Clemson Tiger Bobblehead to commemorate the Clemson University Football Team's 2016 National Championship Season. The bobblehead features The Tiger, Clemson's Mascot, standing on a National Championship Base with a replica of the College Football Playoff National Championship Trophy.
The bobbleheads, which will measure approximately 8" tall, are available for preorder online in the Hall of Fame and Museum Online Store and cost $35 each plus a flat rate shipping charge of $8 per order. The bobbleheads are expected to be delivered in June.
The Clemson Tigers defeated the Alabama Crimson Tide by a final score of 35-31 in one of the most memorable NCAA Championship games in history. This is the first time that a National Championship Bobblehead has ever been produced for the Clemson Tigers.
"This bobblehead is the perfect way for Clemson fans across the world to commemorate the team's historic National Championship forever," said Phil Sklar, Co-Founder and CEO of the National Bobblehead Hall of Fame and Museum. "We urge fans to preorder their bobbleheads early, because once the presale ends, it may be too late as a limited number of bobbleheads will be produced."
About the National Bobblehead Hall of Fame and Museum
The National Bobblehead Hall of Fame and Museum was announced in November 2014. The HOF and Museum hosted a Preview Exhibition at RedLine Milwaukee from January through April, and is currently planning for a permanent location. The HOF and Museum also produces high quality, customized bobbleheads for organizations, individuals and teams across the country. Visit us at www.BobbleheadHall.com, www.facebook.com/BobbleheadHall or www.twitter.com/BobbleheadHall.