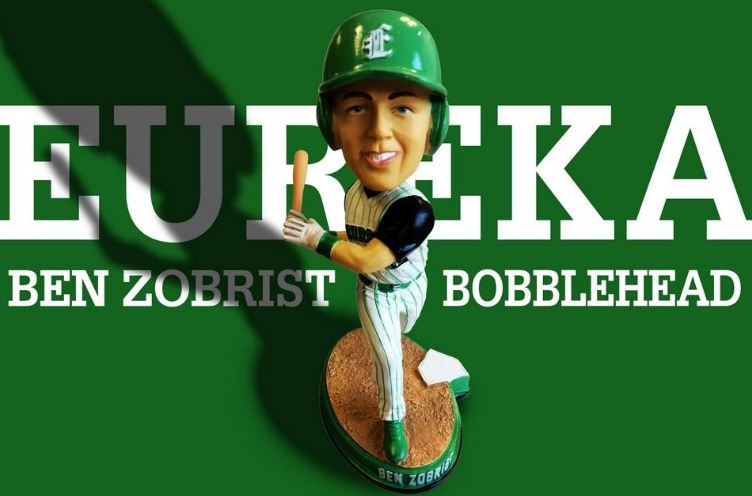 Attenion Ben Zobrist fans!
A Ben Zobrist bobblehead, featuring the image of the Chicago Cubs' World Series MVP in his Eureka High School baseball uniform, goes on sale Friday. Proceeds from sale of the limited-edition figurine will benefit the EHS athletic department.
Five hundred numbered bobbleheads will be sold for $25 apiece. They can be purchased only at the high school or online from the National Bobblehead Hall of Fame and Museum at store.bobbleheadhall.com. Online orders add an $8 shipping charge. Sales at the high school office may be made between 8 a.m. and 3:30 p.m.
Phil Sklar, co-founder and CEO of the bobblehead organization, called the story of Zobrist's rise from the Woodford County village to World Series hero "certainly one of the best in sports."
Zobrist graduated from Eureka in 2000, making the Journal Star All-Area team, but sparked no interest from pro or college scouts until he attended a tryout camp, paid for with birthday money from his grandparents. That led to an offer to play at Olivet Nazarene and, after three years, a transfer to budding national collegiate power Dallas Baptist.
He was drafted by the Houston Astros in 2004, then traded to the Tampa Bay Devil Rays, for whom he made his major league debut in 2006. Playing multiple positions and wielding a productive bat, Zobrist helped the Rays reach their first World Series. Traded, to the Kansas City Royals, Zobrist sparked that franchise to the 2015 World Series championship, its first in 30 seasons. After the season, he signed a four-year deal with the Cubs and last season helped them win their first championship since 1908. He supplied several clutch hits during the Series, including a double to drive in the go-ahead run in the 10th inning of Game 7, earning MVP honors.