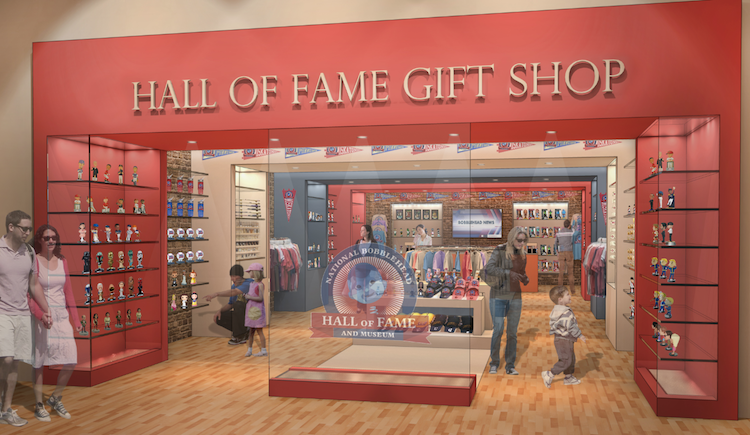 In May 2014, owing to their 
successful development of a bobblehead commemorative honoring friend and Special Olympics participant Michael Poll
, Phil Sklar and Brad Novak put their steady noggins together and decided to give fellow admirers a place to inspect similar collectibles. The result: the National Bobblehead Hall of Fame and Museum. Just shy of their concept's four-year anniversary, the two are not only preparing to celebrate the opening of a permanent Milwaukee space, but are also enjoying the public's ever-growing demand for the wobbly wonders.
"We are pleasantly surprised with how everything is unfolding," Sklar, the destination's co-founder and CEO, said of the ample attention that the duo is receiving. "We have definitely exceeded our expectations, and we're really looking to inspire more enthusiasm for bobbleheads."
Given the popularity that the objects are enjoying, one can presume that he and Novak seem destined for further renown. Bobbleheads have become a ubiquitous presence in the promotional products world, and Sklar values their ability to capture specific achievements and preserve emotional occasions. Those "experience moments" have helped enhance the commercial component of their identity that Novak and Sklar had in mind when plotting the spot.
"We wanted to be able to mesh our admiration for bobbleheads with consumers' interest in them," said Sklar of seeking a physical space for the museum and marketing the materials. "Neither looks as if it's going to decline, so we feel we are in a decent position to be a pioneer for what's a growing phenomenon."
The Wisconsin businessman, whose economic acumen—acquired through previous employment as a senior auditor, a manager of treasury analysis, a corporate financial analyst and an assistant finance leader—greatly assisted his market research efforts, indeed is situating himself as a bigwig in appreciating the small keepsakes. Sports have obviously served his aspirations well, but the constant news cycle in which we live means that any individual can inspire a light bulb to go off.
Awareness of standout occasions and rare occurrences compels the founders to ponder "at least a few new ideas" daily, according to Sklar, who contended that there will never be a shortage of options to commemorate.
"If we look at the sports world some more, it's obvious that every new season, no matter the sport, will give us new moments to immortalize," he said, referencing 
Sister Jean Dolores Schmidt
, the chaplain of the Loyola University Chicago men's basketball team that advanced to this year's Final Four, and 
Jason Kelce
, the lively Philadelphia Eagles center whose Super Bowl LII victory parade attire found him donning a Mummers outfit, as proof of his point. "It's always great to mark something unprecedented or unexpected, and bobbleheads have become such a means to do so."
The products have also enjoyed popularity due to 
sports organizations' alignment of them with pop culture mainstays
 such as "Game of Thrones" and "Star Wars." No matter the galvanizing force, the bobblehead heavyweights, through both Forever Collectibles, which produces the bulk of their items, and a factory in China, aim to increase the levity that end-users seek when coveting customized goods and the trips down memory lane that they wish to take when studying bobbleheads' evolution.
In the latter regard, then, the Bobblehead Hall of Fame and Museum will be a must-see attraction for the foreseeable future, but especially during its initial stage, as it will coincide with baseball season. No matter the timing, though, Sklar and Novak—who, through 
2016's "Bobbleheads: Real & Fantastical Heroism" exhibition
, gave aficionados a taste of what the soon-to-open site will hold—will be displaying up to 10,000 bobbleheads, and will have their brainchild live up to its Hall-of-Fame distinction through 
an annual enshrinement ceremony
 for the best collectibles.
"It's a very interesting time to be in this market," Sklar said of having become a respected resource for bobblehead buffs. "We're still every confident that we'll have the museum open this month, and then comes the extra incentive of seeing visitors' reactions to how we've chosen to celebrate bobbleheads' influence on our lives. It's been a rewarding journey that we hope helps us to meet many more wonderful people."
Related Posts
Funko has revealed a new set of Pop bobble-head figures based on Marvel Studios' Thor films. The new figures are based on Loki (Tom Hiddleston) with his helmet, Odin (Anthony
In advance of single-game tickets going on sale this Friday, July 25 at 10 a.m., the St. Louis Rams have announced its 2014 promotional schedule for home games at the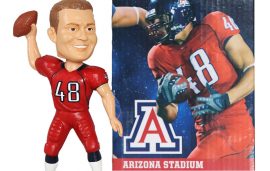 Arizona to give away Rob Gronkowski bobbleheads at Wildcats' season opener vs. Northern Arizona By Michael Lev Arizona has come up with an ingenious way to boost attendance for its Sept.