Stephen Piscotty Oakland A's Bobblehead with a Cause Unveiled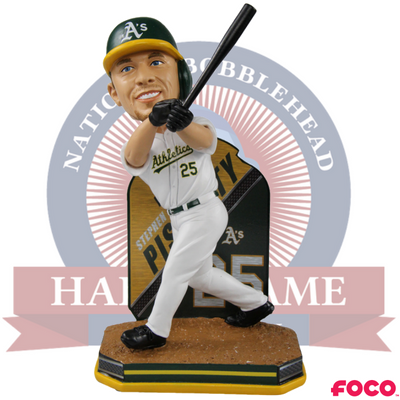 First Bobblehead featuring Stephen Piscotty in his Oakland Athletics' uniform now available with $5 from every bobblehead sold going to GoFundMe in honor of Gretchen Piscotty for ALS research.

MILWAUKEE, Wi., September 28, 2018 – This morning, the National Bobblehead Hall of Fame and Museum unveiled an officially licensed, limited edition bobblehead featuring Stephen Piscotty. The bobblehead is the first featuring Piscotty in the A's jersey. The St. Louis Cardinals granted Piscotty's request to be traded to the A's so he could be close to his mother, Gretchen, who was battling ALS. The National Bobblehead Hall of Fame and Museum will be donating $5 from every bobblehead sold to the GoFundMe in memory of Gretchen Piscotty benefiting ALS research.
The bobbleheads, which are individually numbered to only 2,018, are $40 each plus a flat rate shipping charge of $8 per order. The officially licensed bobbleheads were produced by FOCO. The initial production run of 150 bobbleheads are in stock now, and the remaining bobbleheads will be produced and made available for pre-order if the initial production run of bobbleheads sell out.
On December 14, 2017, the St. Louis Cardinals traded Piscotty to the Oakland Athletics at his request. Piscotty wanted to be able to spend more time with his mother, Gretchen, who was battling ALS and lived in nearby Pleasanton, California, where Stephen grew up rooting for the A's. Gretchen's battle with Lou Gehrig's disease ended On May 6th, less than a year after the 55-year-old was diagnosed with the terminal illness. On May 15, 2018, in his first game back after returning from bereavement leave following the death of his mother, Piscotty hit a home run. Piscotty has been an integral component of the A's team that clinched a postseason berth for the first time since 2014.
The St. Louis Cardinals selected Piscotty in the first round of the 2012 Major League Baseball Draft with the 36th overall selection after he played collegiately for the Stanford Cardinal. Piscotty made his Major League debut on July 21, 2015 and recorded his first hit during the game. Piscotty won the role of starting right fielder for the Cardinals in 2016 but had a rough 2017 season with much of the time spent on the DL and on a leave of absence.
The Oakland Athletics Community Fund created a GoFundMe in Memory of Gretchen Piscotty with a goal of raising $150,000. The A's, which matched $50,000, will be donating all proceeds from the fundraiser, which is currently $8,000 short of the goal, to the ALS Therapy Development Institute. The ALS Therapy Development Institute and its scientists actively discover and develop treatments for ALS. ALS TDI is the is the world's first and largest nonprofit biotech focused 100 percent on ALS research. Led by people with ALS and drug development experts, ALS TDI understands the urgent need to slow and stop this disease.
"When we saw Stephen and his family's story on TV, we immediately put the bobblehead into motion," said Phil Sklar, Co-Founder and CEO of the National Bobblehead Hall of Fame and Museum. "We wanted to honor him while also raising funds for an incredible cause and in memory of Gretchen.  Bobbleheads have great stories behind them, and this one represents one of the most touching stories that I've seen in quite some time. Hopefully in can play a small part in raising awareness about ALS and helping to find a cure for the terrible disease."
About the National Bobblehead Hall of Fame and Museum:
The National Bobblehead Hall of Fame and Museum is finishing set-up of its permanent location, which is expected to open this Fall. The HOF and Museum was announced in November 2014 and hosted a Preview Exhibit in 2016. The HOF and Museum also produces high quality, customized bobbleheads for organizations, individuals and teams across the country. Visit us at www.BobbleheadHall.com, www.facebook.com/BobbleheadHall or www.twitter.com/BobbleheadHall.
About FOCO:
Previously known as Team Beans, LLC and Forever Collectibles, FOCO is a leading manufacturer of sports and entertainment merchandise celebrating more than 17 years in the industry. The company's ever-growing product lines include apparel, accessories, toys, collectibles, novelties, footwear, holiday and more. FOCO is licensed with all major sports leagues including the NFL, MLB, NBA, NHL, NASCAR, MLS and over 100 colleges and universities as well as entertainment properties such as Disney, Warner Bros/DC Comics, Nickelodeon and Sanrio. Please reach out to Matthew Katz, Licensing Manager, mkatz@foco.com for more information.