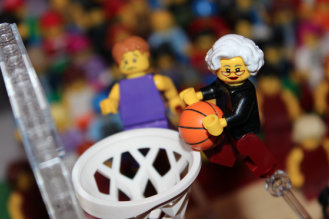 What's cooler than a 98-year-old Catholic nun who's become the face of college basketball's latest Cinderella story? How about a LEGO figure to join your collection of characters from Star Wars and DC Comics? Or maybe a bobblehead?
Sister Jean is now a full-blown celebrity around the sports world after Loyola's latest triumph over Nevada to reach the Elite 8, so she's being honored in the best way possible: Various plastic memorabilia depicting her likeness.
For example, a slam dunking LEGO figure with a basketball hoop that's oddly massive, via LEGOLAND Chicago.
They even show her making a Kansas State fan cry because she's ruthless like that.
But maybe LEGOs aren't quite your speed because of that one time you accidentally stepped on one in the dark and entered a time warp of piercing pain. In that case, there's an officially licensed bobblehead for you that may or may not be terrifying in real life. It's honestly hard to tell. Here's the mock up from the National Bobblehead Hall of Fame and Museum:
The website says that the bobbleheads will ship by June 2018 (long after the end of the NCAA Tournament) and "a portion of the proceeds from the sale of each bobblehead benefit the Loyola Athletic Fund and the Sisters of Charity of the Blessed Virgin Mary."
It doesn't appear that the LEGO Sister Jean is up for sale, but if it was, which one would you prefer?