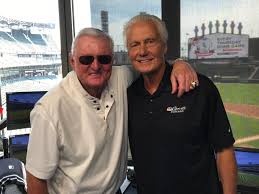 Ken Harrelson (Hawk) and Tom Paciorek (Wimpy), who called White Sox games together in the 90s, will share the mic for the first time since 2000.
Paciorek is filling in on Sunday for Steve Stone who is off for the series against the Minnesota Twins, according to Jeff Agrest with the Chicago Sun-Times. Harrelson has been on the mic during Sunday games only. He is planning to retire at the end of the 2018 season.
This is a special event because of the history this pair has had. Fans who listened during the 90s will remember the conversations that Hawk and Wimpy had during their broadcasts. Wimpy was replaced by Darrin Jackson, who is a Sox radio analyst. Jackson took over a short time in 2000 and remained in the booth until 2008. Then, the job was given to Steve Stone and it has been his since.
The two knew the game and they entertained the fans with their humor. Hawk has always been able to keep the fans in the game despite infusing his play-by-play calls with his ideas and Hawkisms. Wimpy was responsible for the color commentary and explanations of plays. It was with Wimpy that Hawk started using "duck snort" and "he gone." Hawk could clearly manage the whole game on his own, but Wimpy provided even more entertainment. Their chemistry was perfect.
The Sox start at 1:00 against the Twins on NBC Sports Chicago. Fans in the stands may want to set the timer to listen to the shtick later.
On Saturday, May 19, the Sox will give fans a lasting memory of Hawk. This happens to be Star Wars day, so fans will receive a bobblehead with the name "Hawk Solo". The bobblehead is meant to commemorate Hawk's iconic career as well as the opening of the new Han Solo movie a few days later.