UCF Football 2017 National Champions Bobblehead Unveiled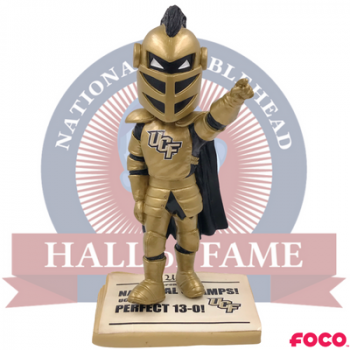 Limited Edition bobblehead commemorating UCF's 2017 Football National Championship are now available for pre-order exclusively from the National Bobblehead HOF.
MILWAUKEE, Wi., August 9, 2018 – – This morning, the National Bobblehead Hall of Fame and Museum unveiled an officially licensed bobblehead commemorating the University of Central Florida's 2017 Football National Championship. The bobblehead features the UCF mascot, Knightro, on a newspaper shaped base with the headline "National Champs! UCF Goes Perfect 13-0!".
The bobbleheads, which are individually numbered to 1,300, are $40 each plus a flat rate shipping charge of $8 per order. Fans can pre-order them now, and they are expected to ship in October. The officially licensed bobbleheads, which is the only one commemorating UCF's National Championship, were produced by FOCO.
UCF defeated Auburn by a score of 34-27 to win the Chick-fil-A Peach Bowl and finish the season a perfect 13-0. The Knights were the only undefeated team in FBS football, and the Auburn team that it defeated in the final game of the season beat both Alabama and Georgia—the two participants in the College Football Playoff Championship Game. Central Florida wasn't invited to participate in the College Football Playoff despite their perfect 12-0 record.
The University celebrated the team's accomplishment with a National Champions sign at Spectrum Stadium, a parade at Walt Disney World and Championship rings and t-shirts, but now fans can commemorate the championship with a bobblehead. A bobblehead was also produced to commemorate Alabama' 2017 National Championship after the Crimson Tide defeated the Georgia Bulldogs in the College Football Playoff Championship Game.
"Bobblehead are the perfect way for fans to commemorate a Championship season, and as soon as the Knights went 13-0, we knew a bobblehead had to be created for Knights fans to celebrate their remarkable season," said Phil Sklar, Co-Founder and CEO of the National Bobblehead Hall of Fame and Museum. "UCF was the only team to win every game they played, which we think is very deserving of the National Championship title and bobblehead!"
About the National Bobblehead Hall of Fame and Museum:
The National Bobblehead Hall of Fame and Museum was announced in November 2014. The HOF and Museum hosted a Preview Exhibit in 2016, and is currently finishing set-up of the permanent location, which is expected to open this fall. The HOF and Museum also produces high quality, customized bobbleheads for organizations, individuals and teams across the country. Visit us at www.BobbleheadHall.com, www.facebook.com/BobbleheadHall or www.twitter.com/BobbleheadHall.
About FOCO:
Previously known as Team Beans, LLC and Forever Collectibles, FOCO is a leading manufacturer of sports and entertainment merchandise celebrating more than 17 years in the industry. The company's ever-growing product lines include apparel, accessories, toys, collectibles, novelties, footwear, holiday and more. FOCO is licensed with all major sports leagues including the NFL, MLB, NBA, NHL, NASCAR, MLS and over 100 colleges and universities as well as entertainment properties such as Disney, Warner Bros/DC Comics, Nickelodeon and Sanrio. Please reach out to Matthew Katz, Licensing Manager, mkatz@foco.com for more information.