Two Special Edition St. Louis Cardinals Bobbleheads Now Available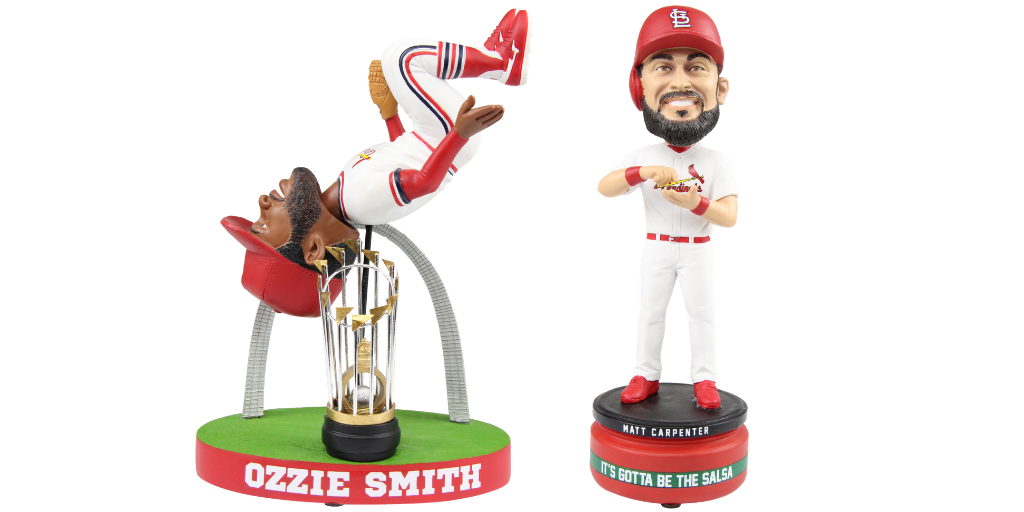 Bobbleheads commemorating Ozzie Smith's legendary back flip and Matt Carpenter's salsa celebration are now available exclusively from the National Bobblehead HOF and Museum.
MILWAUKEE, Wi., April 26, 2019 – This morning, the National Bobblehead Hall of Fame and Museum announced that two officially licensed, limited edition St. Louis Cardinals bobbleheads are now available. The first bobblehead features Ozzie Smith in front of St. Louis' Gateway Arch and also features the Cardinals 1982 World Series Trophy. The second bobblehead features Matt Carpenter standing on a jar of salsa doing his "It's Gotta be the Salsa" celebration.

Both bobbleheads just arrived and are individually numbered to only 1,000. The bobbleheads are $40 each plus a flat rate shipping charge of $8 per order. The officially licensed bobbleheads, which are the only ones commemorating Ozzie Smith's back flip and Matt Carpenter's salsa celebration, were produced exclusively for the National Bobblehead Hall of Fame and Museum by FOCO.
Ozzie Smith, known as "The Wizard of Oz", combined his athletic ability with acrobatic skills to become one of the greatest defensive shortstops ever. According to Smith's Baseball Hall of Fame plaque, "His congenial personality, consummate professionalism and trademark back flip made 'The Wizard' a fan favorite". Ozzie was inducted into the Baseball Hall of Fame in 2002 after a nearly two-decade career with the Cardinals and Padres in which he earned 13 Gold Glove awards and was named to 15 All-Star teams. Smith set several major league records for a shortstop including most assists (8,375), most double plays (1,590), most total chances accepted (12,624), most years with 500 or more assists (8) and most years leading the league in assists and chances accepted (8).
The salsa celebration was born during the 2018 season after Matt Carpenter's signature salsa was introduced to the team's clubhouse during a trip to Wrigley Field after the All-Star break. Over a five-game span, Carpenter had nine hits and six homers in only 17 at-bats, including three home runs and two doubles in an 18-5 win on July 20th. The Cardinals season went on an upward trajectory and the lucky salsa inspired the celebration that's featured in the bobblehead. The "It's Gotta be the Salsa" slogan became a mantra for the Cardinals for the remainder of the season and salsa-related merchandise became a best-seller including Carpenter's signature salsa at Schnucks grocery stores.

"We're excited to be celebrating two of St. Louis' favorite players with very unique bobbleheads," said Phil Sklar, Co-Founder and CEO of the National Bobblehead Hall of Fame and Museum. "Ozzie's backflip and Matt Carpenter's salsa celebration are both bobblehead worthy and will be must-haves for any Cardinals fan."
About the National Bobblehead Hall of Fame and Museum:
The National Bobblehead Hall of Fame and Museum, which is located at 170 S. 1st. St. in Milwaukee, Wisconsin, opened to the public on February 1st, 2019. The HOF and Museum also produces high quality, customized bobbleheads for retail sales, organizations, individuals and teams across the country. Follow the Hall of Fame and Museum online and on Facebook, Twitter and Instagram.
FOCO is a leading manufacturer of sports and entertainment merchandise celebrating more than 17 years in the industry. The company's always-growing product lines includes apparel, accessories, toys, collectibles, novelty items, and more. FOCO is licensed with all major sports leagues including the NFL, MLB, NBA, NHL, NASCAR, MLS and over 100 colleges and universities as well as entertainment properties such as Disney, Warner Bros/DC Comics, Nickelodeon, and WWE. Please reach out to Matthew Katz, Licensing Manager, P 848-260-4315 - mkatz@foco.com for more information. Follow @FOCOusa on Facebook, Twitter, and Instagram for more exciting news and new product releases.