Cleveland Indians Win Streak Bobblehead Unveiled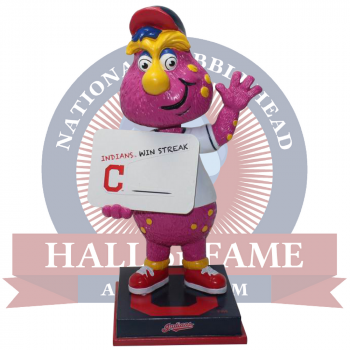 First-of-its-kind bobblehead featuring dry erase board lets Indians' fans track the team's current win streak.
MILWAUKEE, Wi., August 2, 2018 – This morning, the National Bobblehead Hall of Fame and Museum unveiled an officially licensed, limited edition Cleveland Indians Win Streak Tracker Bobblehead. The bobblehead is the first to incorporate a dry erase board to track a team's win streak and was inspired by the Indians' unbelievable 22-game winning streak during the 2017 season. The bobblehead features Indians' mascot, Slider, holding the dry erase board that says "Indians Win Streak" with the Cleveland logo.
The officially licensed bobbleheads were produced exclusively for the National Bobblehead HOF and Museum by FOCO and are individually numbered to only 1,000. The bobblehead are $40 each and are in stock and ship now.
In 2017, the Indians broke Major League Baseball's record for longest winning streak with their 22-game streak that stretched from August 24th to September 14th. On September 15th, the Indians lost 4-3 to the Royals before going on to win the next five games. In baseball's long, storied history, only the 1916 New York Giants had a longer unbeaten streak, which totaled 26 games, but included a tie between the team's 14th and 15th wins. The Oakland A's won 20 games in a row in 2002 for the previous American League record.
"With a collection starting to approach ten thousand unique bobbleheads, you sometimes think you've seen it all, but the Indians' win streak in 2017 inspired the idea to incorporate a dry erase board into the bobblehead," said Phil Sklar, Co-Founder and CEO of the National Bobblehead Hall of Fame and Museum. "We were excited to work with FOCO to turn our concept into a reality, and the Indians and their fans are deserving of the first win streak bobblehead! We think this bobblehead will be a way for fans to families to have even more fun tracking their team throughout the season."
About the National Bobblehead Hall of Fame and Museum:
The National Bobblehead Hall of Fame and Museum was announced in November 2014. The HOF and Museum hosted a Preview Exhibit in 2016, and is currently finishing set-up of its permanent location, which is expected to open in Fall 2018. The HOF and Museum also produces high quality, customized bobbleheads for organizations, individuals and teams across the country. Visit us at www.BobbleheadHall.com, www.facebook.com/BobbleheadHall or www.twitter.com/BobbleheadHall.
About FOCO:
Previously known as Team Beans, LLC and Forever Collectibles, FOCO is a leading manufacturer of sports and entertainment merchandise celebrating more than 17 years in the industry. The company's ever-growing product lines include apparel, accessories, toys, collectibles, novelties, footwear, holiday and more. FOCO is licensed with all major sports leagues including the NFL, MLB, NBA, NHL, NASCAR, MLS and over 100 colleges and universities as well as entertainment properties such as Disney, Warner Bros/DC Comics, Nickelodeon and Sanrio. Please reach out to Matthew Katz, Licensing Manager, mkatz@foco.com for more information.