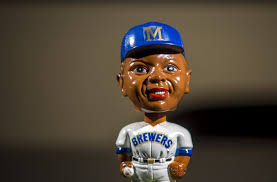 Hank Aaron made a name for himself in the sports world as a member of the Milwaukee Braves, starring for the club from 1954 until they left Milwaukee for Atlanta after the 1965 season. It was in Atlanta that he truly became a national figure, with his chase of Babe Ruth's all-time home run record drawing attention both for the feat itself and for the viciously racist reaction by some fans to the prospect of a black man breaking the record of a cherished white player.
The stresses of chasing, and then breaking, the record wore on Aaron through the 1973 and 1974 seasons. He felt abused by the media and under-appreciated by the Braves and their fans. Shortly after he broke the record in April 1974, he had decided that he would not play in Atlanta in 1975.
Many people in baseball, as well as the Braves organization itself, expected Aaron to retire after the '74 season. So, it was quite a surprised when Aaron announced at the season's end that he was still considering playing in 1975 and had a firm destination in mind if he did return. "I don't want to go any other place than Milwaukee."
Aaron had enjoyed his time in the Cream City far more than his years in Atlanta. He was good friends with Bud Selig, president of Brewers – the American League club that had moved to Milwaukee in 1970 – and also with Del Crandall, Aaron's former teammate and current Brewers manager. Selig had been trying to acquire Aaron since 1972 and was delighted with his old pal's end-of-the-year declaration. In October, 1974, he received permission from the Braves to negotiate a contract extension with Aaron, a necessary prelude to a possible trade. With a tentative agreement to a two-year pact worth nearly $500,000 – which would make Aaron the highest-paid player in baseball, the Braves agreed to send Aaron to Milwaukee in exchange for outfielder Davey May.
Aaron was thrilled to return to Milwaukee. "There was no real warmth between [Atlanta] and me," Aaron later wrote in his autobiography. "I still loved Milwaukee, and unlike Atlanta, Milwaukee still loved me." The Brewers also arranged for a post-playing career for Aaron, promising him a job in the front office after retirement (a job he ended up declining). For the Brewers' April 11 home opener in 1975, a full house gave Aaron a hero's welcome. This bobblehead, manufactured by Sports Specialty Corporation, was available throughout the season at County Stadium souvenir stands. Aaron played two seasons with the Brewers, running his record home run total to 755, before retiring.