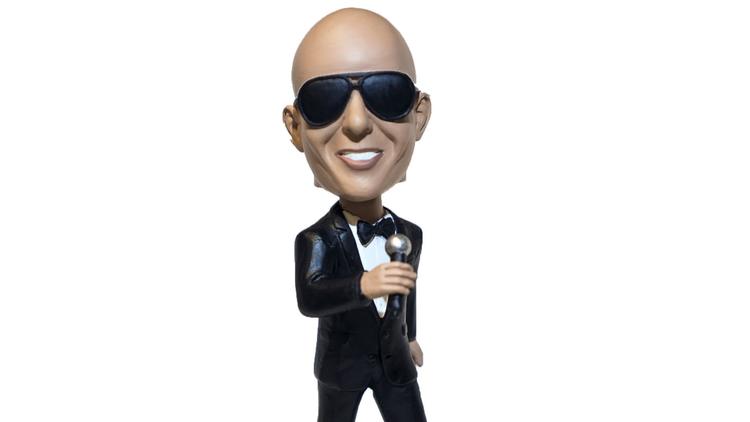 The Marlins are giving away this Pitbull bobblehead — and he talks By David Selig
A Pitbull bobblehead doll that talks?
Just when you thought the DJ Khaled bobblehead was leading the way for the most Miami promotion in baseball history, the Marlins have one-upped themselves.
The team announced Tuesday that it will hand out a limited (but unspecified) number of Pitbull bobbleheads before their game on July 29 to celebrate "305 Day" at Marlins Park.
The giveaway is sponsored by Del Toro, and according to the team, "the celebrity collectible has an audio function with recordings from Mr. 305 himself."
"It's an honor to have the first official Pitbull bobblehead be released on 305 Day with the Miami Marlins," Pitbull (real name Armando Christian Perez) said in a news release. "The Marlins have been great partners not only in support of the Pitbull brand but its contributions to the neighboring SLAM! (Sports, Leadership, Arts, Management) Academy and its students, 3054lyfe"
That July 29 game against the Washington Nationals will also feature appearances by local celebrities and a postgame concert at The 5th Base.
The DJ Khaled bobblehead giveaway at Marlins Park is on Aug. 12, if you're scoring at home.
The cynical fan will point out that perhaps these celebrity bobbleheads are an indictment of the popularity of the actual players on the team. But if you're building a collection of "Only in Miami" souvenirs, you may see this as your time to strike.
Pitbull, meanwhile, is opening a new bar this week at a casino in Biloxi, Mississippi, and he has a restaurant opening in Miami Beach planned for sometime this summer.