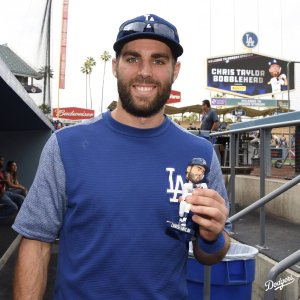 LOS ANGELES, Calif. – It was a night Taylor-made for a Virginia Beach family.
Wednesday, the first 40,000 ticketed fans at the Los Angeles Dodgers game vs. the Philadelphia Phillies received the first-ever Chris Taylor bobblehead, presented by Pirelli. Taylor, the former UVA standout, is an alumnus of Cox High School in Virginia Beach.
Taylor's family made the trip to Los Angeles to help celebrate their son's bobblehead night – a game in which he went 1-for-5 at the plate with an RBI double and run scored in an 8-2 Dodgers win.
Taylor's sister, Noel, a former Virginia Tech cheerleader, threw the ceremonial first pitch prior to the game.
Chris, a 2009 Cox High School graduate, was voted co-MVP of the 2017 National League Championship Series. His six hits, including a pair of home runs, helped Los Angeles dethrone the defending world champion Cubs and advance to the World Series.
At Virginia, Taylor helped lead the 'Hoos to the 2011 College World Series.